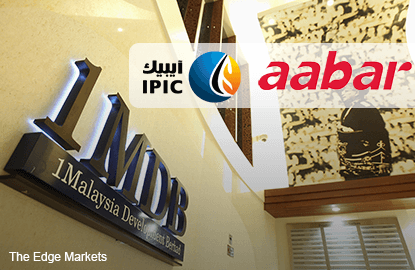 KUALA LUMPUR (April 12): 1Malaysia Development Bhd (1MDB) said it will pursue "all available avenues" open to it, following the denial by the International Petroleum Investment Corp (IPIC) of having any links to the British Virgin Islands firm to whom the troubled state fund paid US$3.5 billion.
IPIC, which is owned by the Abu Dhabi government, and IPIC's unit Aabar Investment PJS (Aabar) had yesterday issued a joint statement denying ownership of Aabar Investment PJS Ltd (Aabar BVI). They also denied receiving any payments from Aabar BVI or of assuming any liabilities on behalf of the firm.
In a statement today, 1MDB said it is confident of its legal position in relation to the US$3.5 billion cash deposits paid to Aabar BVI between 2012 and 2014.
"For an as-yet-to-be-determined reason, IPIC and Aabar are only now seeking to deny ownership of Aabar BVI or receipt of the payments," said the state fund.
"This will no doubt be the subject matter of further enquiry and discussion. 1MDB is exploring all its options in this regard," it added.
Opposition lawmaker Tony Pua earlier today said the denial by IPIC and Aabar has "finally confirmed what critics of 1MDB have suspected all along, that 1MDB has been making billions of dollar of payments to a fictitious Aabar BVI, pretending that it was payments to the real Aabar of Abu Dhabi".
Pua said it was clear that there were parties in 1MDB who had acted in cahoots with IPIC's former top officials to "scam Malaysians of billions of dollar".
In response to Pua's statement, 1MDB reiterated that it has shared all documents in its possession, and those it could obtain, with the National Audit Department (NAD), with the documents showing ownership of, payments to, and underlying legal documents relating to Aabar BVI.
"Hence there are no 'lies' or suppression of information, as wrongly claimed by YB Tony," said 1MDB.
"There are clear references to these payments in the publicly-available March 31, 2013 and March 31, 2014 1MDB audited financial statements," it added.
The state fund reiterated that it commits to fully cooperate with the police and its investigations, following the recommendations by the Public Accounts Committee (PAC).
"The company has always maintained and continues to maintain that if any wrongdoing is found, then action must be taken, according to the law," it said.  
The PAC, in its report on investigations into 1MDB, noted that the fund's board of directors did not approve US$1.4 billion — from a privately-placed bond that Goldman Sachs raised in 2012 — as a security deposit to Aabar BVI in May that year.
1MDB had also made payments of US$855 million, US$933 million and US$295 million as security deposits and other guarantees for the bond to Aabar BVI, said the report.