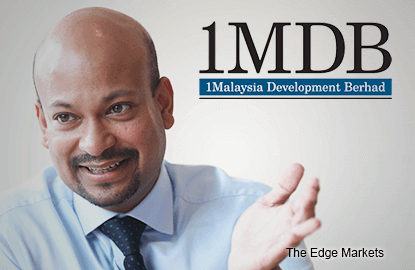 KUALA LUMPUR (Nov 5): 1Malaysia Development Bhd (1MDB) president and group executive director Arul Kanda suggested that Pandan MP Rafizi Ramli replace Petaling Jaya Utara MP Tony Pua in the Public Accounts Committee (PAC).
In a statement today, Arul said this would allow the live debate between him and Pua to be carried out.
"I note that YB Tony Pua's coalition has now offered YB Rafizi Ramli as replacement debater. The obvious question is why doesn't YB Rafizi Ramli replace YB Tony Pua in the PAC, so that YB Tony Pua can debate me? It was specifically YB Tony Pua who challenged me.
"YB Tony Pua issued the debate challenge and I accepted, with no conditions. There was never any question of debate with Pakatan Harapan, which has now appeared out of nowhere, in a desperate and last-minute attempt, to save YB Tony Pua from embarrassment. These are clearly political games which I, as a professional, will not be drawn into," Arul said.
Looking ahead, Arul said 1MDB would respond to any queries regarding state-owned 1MDB at an appropriate forum.
Arul said Parliament Speaker Tan Sri Pandikar Amin Mulia was the ultimate authority on Parliamentary matters.
"He (Pandikar) has made his ruling on my responsibility as a PAC witness and that any debate should only take place after the PAC hearings.
"1MDB reiterates our readiness to appear in front of the PAC; and in the meantime, my team and I remain focused and committed to implementing the 1MDB rationalisation plan," Arul said.