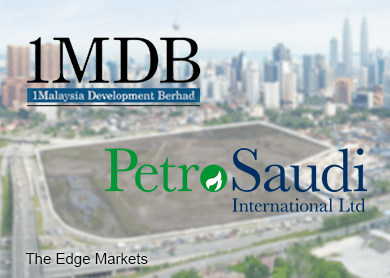 KUALA LUMPUR (June 24): 1Malaysia Development Bhd (1MDB) said it is confident that the lawful authorities will thoroughly investigate and take the appropriate action under the law in the case of a former PetroSaudi International (PSI) staff who was alleged to have leaked information connected to PSI's dealings with 1MDB.
"As stated previously, 1MDB pledges its full co-operation with the lawful authorities in their ongoing investigations on this matter," 1MDB said in a statement today.   
It also noted that press reports on the arrest of the former PSI staff today was about attempted blackmail and extortion in relation to proprietary email information, and that initial probes showed that some of the leaked emails were tampered with.
PSI's former IT executive Xavier Justo was arrested at his home in Thailand by the crime suppression division of the Royal Thai Police yesterday, with charges of attempted blackmail and extortion against PSI.
News emerged late yesterday highlighting Justo's arrest by Thai police as numerous computers, hard drives and other evidence were seized pursuant to a court ordered search warrant.
PSI is a partner of 1MDB, which has racked up debts of RM42 billion in six years of operation, and is now being restructured into three companies as part of a rationalisation effort to get rid of its debts.
In a statement earlier today, the Saudi-based oil and gas company said it was mulling whether to pursue further legal action in other jurisdictions amid ongoing investigation, whilst giving its full cooperation to the authorities in Thailand.
"We are relieved that Mr Justo will now face justice through the courts. We have been the victims of a regrettable crime that has unfortunately been politicised in Malaysia.
"We are happy that the courts will now address this matter, and we apologise to the Malaysian people for the harm caused to them," a spokesperson for PetroSaudi had said.
It was previously reported that whistle-blower site Sarawak Report claimed early last month that the entire 1MDB-PSI joint venture was initiated by businessman Low Taek Jho and his team on Sept 8, 2009, less than a month before the deal was signed.
DAP lawmaker Tony Pua had said that PSI created the shell company 1MDB-PetroSaudi from scratch on Sept 18, 2009, just 10 days before its subsidiary received US$1 billion from 1MDB.
Four days later, on Sept 29, 1MDB bought 40% of new shares in 1MDB-PetroSaudi and injected RM1 billion cash into the entity. The next day, US$700 million was taken out of 1MDB-PetroSaudi and given to PSI.