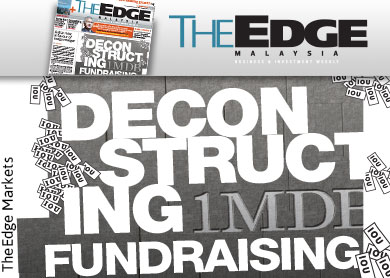 KUALA LUMPUR (Oct 25): 1Malaysia Development Bhd's (1MDB) fund-raising cost has exceeded industry norm and compounded the government's 100%-owned entity's ballooning debt profile, The Edge Malaysia business and investment weekly (Edge Weekly) reported in its latest October 27-November 2 issue.
Edge Weekly reported that 1MDB's RM36 billion debt as at financial year ended March 31, 2013 (FY13) might rise to some RM40 billion in FY14. The rising debt, essentially, raises concerns on the financial sustainability of 1MDB, which invests in real estate development, and power generation operations.
1MDB's financial profile raises concerns of possible government bailout with taxpayers money should 1MDB runs into trouble.
"The amount of debt is expected to be larger for FY2014 as 1MDB has since taken on more borrowings.
"Prime Minister Datuk Seri Najib Tun Razak, who is the adviser to 1MDB and has the sole discretion to appoint the board of directors of 1MDB, told Parliament two weeks ago that they will be submitting the March 31, 2014, accounts by the end of October, and many are waiting to see what the financials will be like," Edge Weekly reported.
   
Edge Weekly reported that 1MDB pays coupon or interest rates of above 4% for its bonds.
Citing examples, Edge Weekly said 1MDB had in 2009 agreed to pay 5.75% annual interest on a RM5 billion 30-year Islamic bond, which was guaranteed by the federal government.
1MDB's bond coupon rates compare with government bonds' rate of below 4% and national oil company Petronas Nasional Bhd's estimated 3.6%.
"Bankers speculated that "middlemen" had profited from the spread of around 1.75% as institutional investors would have been happy to have been offered the government-guaranteed bonds, specifically called Medium Term Notes (MTNS), at 4.0%
"Checks done by Edge Research showed that 1MDB had also paid way above industry standard on two subsequent bond issues it made in 2012 and 2013. However, on these two occasions,
it was not the coupon or interest rate that was particularly high, but the fees and other payments paid to the investment bank, Goldman Sachs International," Edge Weekly reported.
For a better understanding on 1MDB's debt profile, and its impact on goverment finances and taxpayers money, kindly pick up and read the latest issue of the Edge Weekly.