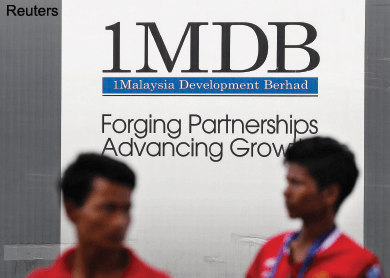 JUST a month ago, the Ministry of Finance (MoF) flip-flopped on its decision to hire CIMB Investment Bank Bhd to look for buyers for 1Malaysia Development Bhd's (1MDB) power-generation assets. The MoF then announced that it wanted to stick to its original initial plan to list Edra Global Energy Bhd.
Even as the MoF appears to have two minds on the sale of Edra Global, rumours have now surfaced that 1MDB's top executives are on the lookout to sell the power assets.
According to sources, president and group executive director Arul Kanda Kandasamy has been actively looking for a local buyer for the power assets housed under Edra Global. According to the sources, he has met with Tenaga Nasional Bhd's top management to discuss its possible acquisition of the company.
This is in line with Arul's strategic review of 1MDB, which was completed in February, where he said plans to monetise 1MDB was not limited to a listing alone.
It is learnt that the utility giant was given the option to either buy out Edra Global's power assets, including those abroad, or take a strategic equity stake in the company.
However, sources say Tenaga has yet to give the offer serious thought. The utility group, in which Khazanah Nasional Bhd owns a 32.42%% stake, has declined to comment on the matter.
Meanwhile, The Edge Financial Daily reported that a Middle Eastern consortium is keen on taking over Edra Global's power assets, which has total installed capacity of 6,620mw.
With a new promoter at the helm, Edra Global's listing exercise could be more feasible to execute and at potentially higher valuations as well.
 This is because debt-laden 1MDB is perceived to be a drag on the company.
Even if Tenaga manages to pay a fair price for Edra Global, it could easily be misconstrued as a bailout for 1MDB.
That said, the sale of Edra Global to foreign parties might meet strong opposition as well since it could mean giving up control of assets that are strategic to national security. Recall that 1MDB's acquisition of the power assets had been justified as a means to safeguard and develop assets of national strategic importance. Nonetheless, about 45% or 2,968mw of Edra Global's 6,620mw capacity is located outside Malaysia in countries such as Egypt and Bangladesh.
Bringing a new controlling shareholder into Edra Global would allow 1MDB to cash out of the power business more quickly and reliably compared with a listing exercise, which is a challenging process.
From Edra Global's perspective, being able to shed the controversy shrouding its existing promoter, 1MDB, would also ease the listing process. The Middle Eastern consortium also includes utility players that Edra Global can team up with to develop new projects in the region.
All said, with interest costs mounting, 1MDB is faced with a tough decision — will it be willing to take a haircut, making a substantial loss on the disposal of the energy unit in order to lower its debts?
Having overpaid for its power assets, 1MDB is unlikely to find a buyer who will top the amounts. In 2012 and 2013, 1MDB paid more than RM12.1 billion to acquire three power assets — Tanjong Energy Holdings Sdn Bhd for RM8.5 billion, Genting Sanyen Power Sdn Bhd for RM2.38 billion and Jimah Energy Ventures for RM1.23 billion.
As at FY2014 ended March 31, 1MDB had already booked RM1.19 billion in write-downs for goodwill impairment on the acquisition of these assets.
Edra Global is estimated to have RM15 billion in debts on its balance sheet and industry executives doubt that the company's cash flow generated from the power assets is sufficient to meet its debt obligation.
Whoever takes over the company has to pay a lower price than 1MDB's so that there will be room for debt refinancing. Otherwise, it will be hard to justify the acquisition.
But the clock is ticking — 1MDB needs fresh cash to service its borrowings.
Unlike its prime land in Tun Razak Exchange and Bandar Malaysia, which it acquired from the government at very attractive prices, power assets generally do not appreciate in value over time as the concessions of the power plants shorten.
Power companies need to develop new projects to sustain growth, but 1MDB hasn't been very successful at facilitating this need. Already, Edra Global is short of capital for its 2,000mw coal-fired plant, called Project 3B, which it won in an open tender. It is known in the power industry that 1MDB intends to hand over Project 3B to Tenaga to develop.
Hence, the longer 1MDB delays the sale of its power assets, the smaller their value will be.
Whatever route 1MDB takes, it needs to done quickly and decisively before the problems at the parent level destroy what value remains in Edra Global.
This article first appeared in The Edge Malaysia Weekly, on April 27 - May 3, 2015.