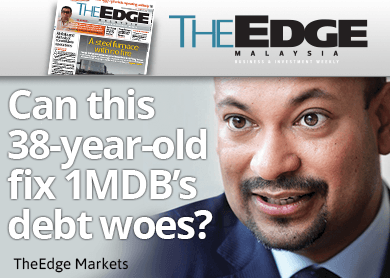 KUALA LUMPUR (Jan 10): 1Malaysia Development Bhd's (1MDB) new chief Arul Kanda Kandasamy said the government's 100%-owned company's substantial debt obligation was justified by its commitment to improve long-term returns.
The Edge Malaysia business and investment weekly (Edge Weekly), in its latest January 12-18 issue, quoted Arul as saying 1MDB had the ability to pay its debt. 1MDB's debt, which amounted to RM41.9 billion as at March 31, 2014, involved a RM2.4 billion finance cost.
1MDB invests in real estate development, and power generation operations. Its assets were valued in excess of RM51.4 billion.
"We're a business, as a business we always need to prioritise where we use our cash. Leverage is part of business. The question is, how much debt? We have the means (to pay the debts) so again, as I said, as a business, as a company.
"we need to prioritise our use of cash. Leverage improves your returns when looked at from a corporate finance perspective. As long as I can service it and (do) not default," Arul said in an interview.
Arul, who was appointed as 1MDB president and group executive director last Monday (Jan 5),  said he was mindful of the company's assets, which had a long gestation period.
He said 1MDB would lose money should the value of these assets fall. But he said that had not happened.
"Obviously, like everybody else, I read a lot of stuff, but my background is as an investment banker, so I am familiar with long gestation projects. When I looked at 1MDB's accounts, what became very clear to me was that this was a development company, it has assets which have long gestation periods.
"I realised very quickly that this was a development company which has been mistaken for a sovereign wealth fund … and therein lies the problem," Arul said.
For a better understanding on Arul's plans for 1MDB, kindly pick up and read the latest issue of the Edge Weekly