This article first appeared in The Edge Financial Daily, on July 30, 2018.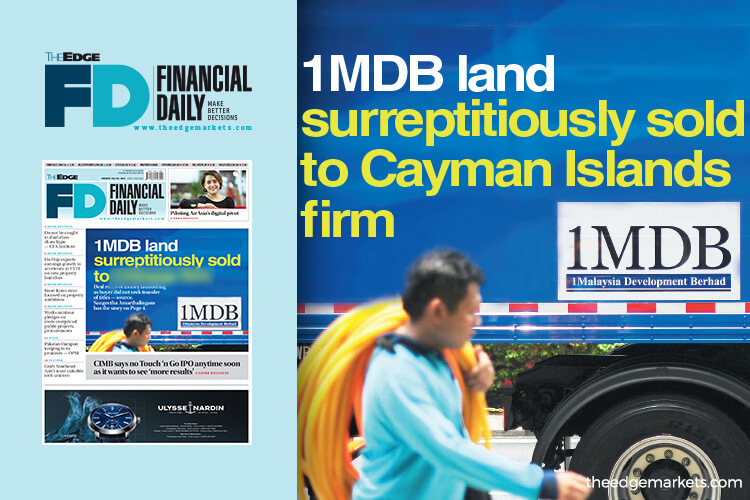 KUALA LUMPUR: Despite a freeze imposed by the Penang state government on transactions involving 1Malaysia Development Bhd's (1MDB) Air Itam land in Penang, all 234 acres (94.7ha) have been surreptitiously sold to Cayman Islands-based Silk Road Southeast Asia Real Estate Ltd, according to Finance Minister Lim Guan Eng.
Guan Eng said the land was sold for 4.25 billion yuan (RM2.7 billion) on Aug 24, 2017, netting a profit of RM1.32 billion based on the original RM1.38 billion purchase price.
The sale was carried out through the disposal of the land's owner, 1MDB unit My City Ventures Sdn Bhd, to Silk Road via a share sale agreement, Guan Eng said in a written parliamentary reply.
"Although the full proceeds from the disposal of My City Ventures have been received by Minister of Finance Inc's wholly-owned subsidiary Sentuhan Budiman Sdn Bhd (SBSB), the transfer of shares to Silk Road has yet to be completed.
"To date, SBSB has yet to receive any application from Silk Road to have the shares transferred," Guan Eng said in reply to a question on July 19 from Bukit Bendera member of parliament Wong Hon Wai on the status of the land.
A source familiar with the issue said the transaction reeks of money laundering, as the buyer did not subsequently seek the transfer of the shares.
"Why do you throw so much money and don't ask for the transfer of titles? The obvious answer is money laundering," the source told The Edge Financial Daily.
It is believed that the money might have travelled from the ministry of finance's (MoF) wholly-owned unit Suria Strategic Energy Resources Sdn Bhd's RM9.4 billion gas pipeline project that was awarded to China Petroleum Pipeline Bureau on Nov 1, 2016.
The project is being scrutinised by the federal government along with the East Coast Rail Link built by China Communications Construction Co Ltd, with both companies being issued with stopwork orders on the grounds of national interest, among others.
The money is suspected to have originated from the project's financing via China Exim Bank before travelling to Silk Road, with an Arab shareholder, and returning to Malaysia where it was transacted in renminbi for the land, and later used to service the US$3.5 billion International Petroleum Investment Co (IPIC) loan.
"The company (Silk Road) did not care about the (Air Itam) land because it was not their money anyway. There is no money trail evidence but it is quite obvious (that it is money laundering)," the source said.
However, the MoF is not able to do anything, the source said, adding that Silk Road did ask for the transfer of the land titles sometime back but there has been no follow-up since.
A company search showed that My City Ventures is a RM2 company set up on March 21, 2013 with RM145,503 paid-up and issued capital. Former 1MDB chief financial officer Azmi Tahir and Chen Kai Hong were named as directors. The company posted a net profit of RM18,478 with zero revenue for the financial year ended March 31, 2017 (FY17). Its total assets dropped to RM137,882 from RM1.07 billion in FY15.
My City Ventures' subsidiary 1MDB RE (Ayer Itam) Sdn Bhd bought the Air Itam land from Farlim Properties Sdn Bhd and Gerak Indera Sdn Bhd on April 29, 2013, along with another 1.1 acres from Farlim Group Bhd on Sept 23, 2013, for a total of RM1.38 billion.
An article in The Edge Malaysia weekly on Oct 16, 2014 showed that the assets, comprising primarily land but also including fewer than 20 shops and terraced houses, are located around the Air Itam town centre.
The land has many encumbrances and would have been a challenge to develop seeing that some 1,200 to 1,400 "ground tenant" dwellings have been occupying the land for more than 50 years, and moving them out would be a very expensive and long-drawn affair.
The land is also fragmented and its owners have fought many costly legal battles with each other and been unable to develop it.
At that time, it was learnt that the price paid by 1MDB was 95% higher than what some of the land was valued at just two years earlier in December 2011.
On May 26, 2016, the Penang government froze land transactions concerning the Air Itam land pending 1MDB's explanation on its debt fund.
Guan Eng, who was Penang chief minister then, said any party that was interested in buying the land would have to get approval from the state government.
In 2016, the Air Itam land and other 1MDB assets, including its stake in Bandar Malaysia Sdn Bhd and TRX City Sdn Bhd, and Pulau Indah, were transferred to the MoF.
Note: The story has been amended to show that Silk Road Southeast Asia Real Estate Ltd is a Cayman Island-registered company and not a China-based company.