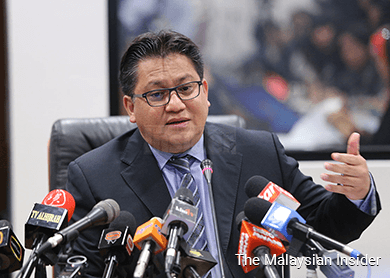 KUALA LUMPUR (June 15): The much-anticipated report of the initial findings by the Auditor-General (AG) on 1Malaysia Development Bhd (1MDB) will not be made public after all, said Public Accounts Committee (PAC) chairman Datuk Nur Jazlan Mohamed today.
This is despite public scrutiny and mounting pressure for the government to resolve 1MDB's RM42 billion debt.
The AG is due to complete the interim report by the end of this month and is expected to be tabled to PAC by earliest July, he told reporters at Parliament lobby today.
Nur Jazlan said the committee has no intention to reveal the contents of the interim report to the public, adding that only the final report will be tabled to Parliament in the future.
"He (AG Tan Sri Ambrin Buang) said the interim report will be ready by end of June and after that he will table the interim report to PAC," he added.
Nur Jazlan said with the interim report in its hands, PAC will be able to use the information given by the AG for the former's probe into questionable deals made by the state-owned investment fund.
"We do not know (yet) what are the contents, but we will use the information given," he said.
The AG has not given PAC any insight as to the contents of the soon-to-be-completed interim report, he added.
Ambrin also did not give PAC any indication as to when the final report on 1MDB will be ready.
"We will take our time when considering 1MDB because there is so much information out there," said Nur Jazlan, when asked to comment on a report that Prime Minister Datuk Seri Najib Razak aims to resolve the 1MDB saga within the next two to six months.
Nur Jazlan said there is no reason to rush PAC proceedings on 1MDB.
Audit firm KPMG is due to give its testimony on Wednesday to PAC. KPMG is one of the three auditors of 1MDB.
To recap, Ambrin in a statement recently said the National Audit Department will complete its preliminary findings into 1MDB by June. The AG was recently accused of dragging its feet in completing its investigations into 1MDB.