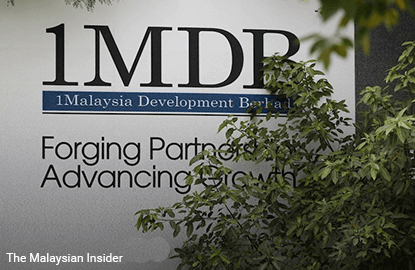 KUALA LUMPUR (Oct 28): State-owned investment fund 1Malaysia Development Bhd (1MDB) has not signed any joint venture agreement with DuSable Capital Management LLC in Kedah, said Prime Minister Datuk Seri Najib Razak.
Najib, who is also the Finance Minister, said this in a one-sentence written reply to Kelana Jaya MP Wong Chen yesterday.
Wong has asked the minister to state the latest statement regarding the 1MDB solar power plant project with DuSable Capital Management LLC in Kedah and specify the important conditions in the contract.
In a press conference at the Parliament lobby today, Wong had asked Najib to disclose all 1MDB dealings with DuSable before Nov 26, 2013 when the US private equity company had stated that it would be an investment adviser to a private equity fund in which 1MDB would be a limited partner.
Wong also asked Najib, who is also the chairman of the advisory board of 1MDB, to state the amount of investment that 1MDB originally contemplated to invest in DuSable.
"Was it US$1 billion that DuSable was seeking and as reported by Bloomberg?" he queried.
Wong had earlier highlighted that Bloomberg reported that DuSable is a private equity firm that is seeking US$500 million to US$1 billion funds to invest in renewable energy projects.
He further asked: "If there is no partnership whatsoever between DuSable and 1MDB, will the Minister of Finance file a formal complaint to the US State Department of Justice against DuSable?"
Recall that on Sept 26, 2013, DuSable filed to the United States Department of Justice to state that it would be the investment adviser to a private equity fund in which 1MDB would be a limited partner.
"This statement means that 1MDB will be an investor of DuSable's projects," Wong said.
However, in another filing to the US Department of Justice on April 23, 2014, DuSable clarified that 1MDB would not be an investor in DuSable but DuSable had engaged in a partnership with 1MDB to develop, finance and construct a 50MW solar power project in Malaysia.
Wong noted that there were no updates on DuSable and 1MDB since then.
Wong also cited another Bloomberg report that DuSable's co-founder Frank White Junior has been described as President Obama's top individual fundraiser, a former technology executive who collected millions of dollars for Obama's election campaigns.
To recap, 1MDB's power unit Edra Global Energy Bhd signed a 25-year power purchase agreement (PPA) to buy electricity from the proposed solar photovoltaic plant, via direct negotiations between the Energy Commission (EC), Ministry of Energy, Green Technology and Water (KeTTHA) and Sustainable Energy Development Authority Malaysia in April 2014.
The PPA provides that 1MDB will design, construct, own, operate and maintain the solar power plant.
In April 2015, The Edge Financial Daily had reported that Tenaga Nasional Bhd has taken up 20%–25% stake in the project after DuSable exits from the project.
Also, Edra has secured a 20% tariff hike for its solar power plant from the EC and KeTTHA.