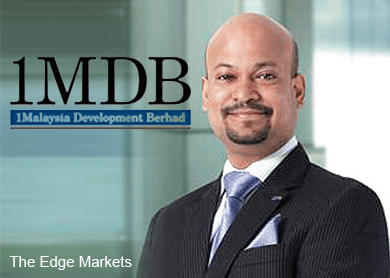 KUALA LUMPUR (Feb 18): 1Malaysia Development Bhd (1MDB) says it is freezing any asset-purchasing and investment exercise, and that no new debts will be raised except to refinance existing loans, meet existing liabilities, or on a non-recourse, project finance basis, said its newly minted president and group executive director Arul Kanda Kandasamy.
In a statement today, Arul said 1MDB recognises that its debt-financed capital structure "is no longer appropriate", thus it intends to take measures to ensure that 1MDB and its standalone entities – namely Edra Global Energy Bhd, Tun Razak Exchange (TRX), and Bandar Malaysia – are well-positioned to service debt and infrastructure obligations.
The statement also said that 1MDB's intends to monetise its Air Itam and Pulau Indah land through joint ventures or outright sale.
It also said that maturing debt will be met via refinancing from best available sources or repaid from sale of land development rights, raising of external equity from joint-ventures and/or outright asset sales.
"There is a need for more direct matching of assets and cash-flows. TRX and Bandar Malaysia will sell land development rights and/or enter into profit-sharing joint ventures, for example, with government-linked investment companies as well as with Malaysian and international private sector companies, who can contribute not only development expertise but also equity and debt to finance specific projects," said Arul.
But the controversial-laden strategic investment entity for the government stressed that its real estate assets will remain with its ultimate shareholder, the Ministry of Finance (MoF).
It also pledged to focus on its core businesses moving forward and no new investments or projects will be undertaken.
"Whilst options are being pursued with respect to the monetisation of Edra Energy, ownership of our real estate assets must ultimately remain with our 100% shareholder, the Ministry of Finance. These projects are crucial to the socio-economic development of the country in general and Kuala Lumpur in particular, with TRX and Bandar Malaysia expected to generate, over time, gross development values of RM40 billion and RM150 billion respectively," said Arul.
These measures are part of 1MDB's strategic review, which was undertaken after Arul came in to helm the company last month.
Arul said 1MDB is mindful of its mandate to be a strategic enabler "for new ideas and sources of growth, and to drive sustainable economic development in Malaysia". 
"Having achieved this, 1MDB will not undertake any new investments or projects, and we have developed a clear strategy for each of our existing businesses moving forward," he highlighted.
1MDB has been stealing the limelight due to its heavy debt burden and overpaid power assets. Its recent payment of a bridging loan worth RM2 billion was delayed for a few months due to its tight cash flow position.
The statement, which was released to announce the completion of its strategic review, was issued about an hour after Bursa Malaysia's closing at 12.30pm.
Reuters reported that 1MDB's debt problems have weighed on the ringgit in recent months, and that immediately following its statement today, the ringgit was up 0.2% against the dollar.