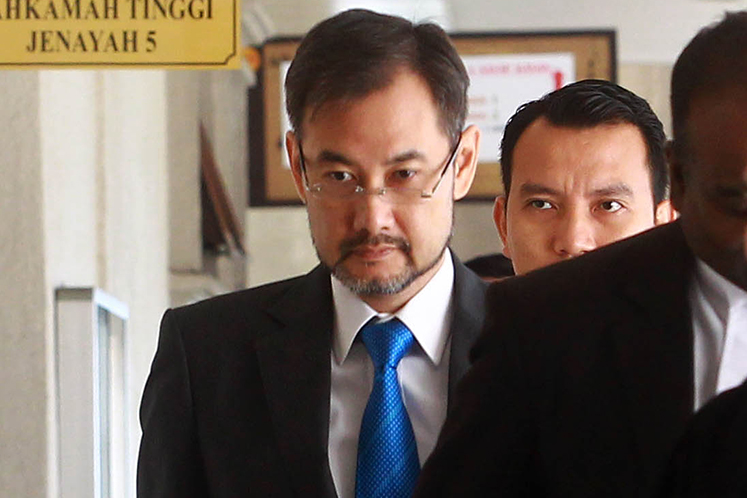 KUALA LUMPUR (May 20): 1MDB's board of directors did not conduct a background check on non-executive director Tan Sri Ong Gim Huat as he was appointed by former premier Datuk Seri Najib Razak, the fund's former CEO Datuk Shahrol Azral Ibrahim Halmi testified today.
Ong is a long-time business partner of Tan Sri Larry Low Hock Peng, the father of fugitive financier Jho Low.
Shahrol said he did not know of the connection between Ong and Larry Low when he was sitting on the board, but added that Ong's name was brought up by Jho Low himself.
Shahrol was testifying in the 1MDB-Tanore trial at the High Court where Najib is facing four charges of abusing his position to obtain bribes totalling RM2.3 billion and 21 charges of money laundering involving RM4.3 billion.
"We did not do a background check on him (Ong) as he was appointed by Najib," the witness said in reply to Najib's lawyer Tan Sri Shafee Abdullah during cross-examination.
To which Shafee retorted: "I have been on the board of directors before and they have asked me questions that [even] my close family didn't know as part of their background checks. So how is it that the 1MDB board did not do any background checks?"
Shahrol reiterated that there was no need for the checks as Ong was appointed by Najib himself. The ex-premier was also the chairman of 1MDB's advisory board.
Shahrol then elaborated that during Ong's tenure on the board, he did not see a reason to doubt Ong's credentials as he always acted in the best interests of 1MDB.
Shafee then proceeded to read an article published in The Edge Financial Daily on Feb 17, 2015 with the heading "1MDB director Ong is business partner of Jho Low's father".
The article stated Ong was not just a friend of Larry Low but also a business partner of 30 years.
The article cited Companies Commission of Malaysia documents which showed that Ong and Larry Low were directors and shareholders of Wonder Bay Sdn Bhd, a Penang-based property development company.
The company's accounts for the financial year ended December 2013 showed that it did not have any revenue that year but had assets of around RM22 million. The company had an issued capital of RM1.2 million.
The Low family's company, Meng Tak Corp Sdn Bhd (previously called Low Meng Tak Sdn Bhd), had a 30% stake in Wonder Bay.
Larry Low had a 15.82% interest in the company that was named after the family patriarch Low Meng Tak.
Ong was a shareholder and director of Kim Mansions Sdn Bhd, which owns 50% of Buramal Sdn Bhd which in turn has a 33.33% stake in Wonder Bay.
It should be noted that throughout this period, 1MDB president Arul Kanda Kandasamy insisted that Jho Low had no involvement in 1MDB, and neither were any friends of Jho Low or the Low family involved with the fund.
Jho Low himself had stated that he was only an adviser to the Terengganu Investment Authority (TIA) from January to May 2009. TIA was then renamed 1MDB when it was taken over by the federal government.
Shahrol said that with all these facts, it would have been prudent to highlight the matter to Najib had these been known prior to Ong's appointment in 2010.
"Now with all these facts presented that Ong and Larry Low had a relationship, it is worth highlighting to Najib and it would have been his prerogative whether to go with the appointment or not," he said.
Ong joined the 1MDB board in January 2010, shortly after the resignation of then Employees Provident Fund CEO Tan Sri Azlan Zainol and current Telekom Malaysia Bhd chairman Tan Sri Mohd Bakke Salleh.
The two men resigned two months after 1MDB entered into a US$2 billion joint venture with PetroSaudi International which was subsequently called off and, according to 1MDB, the money was parked under the management of an asset manager in the Cayman Islands.
Larry Low's company Rembulan Kembara Sdn Bhd was named yesterday in forfeiture proceedings in relation to millions of ringgit belonging to 1MDB.
The company was named with Jho Low's associates Kee Kok Thiam, Tan Vern Tact and Geh Choh Hun.
 
Also named were Najib, his wife Datin Seri Rosmah Mansor, their children Norashman Razak, Nooryana Najwa, Najib's stepson Riza Aziz, and 10 others including Jho Low's mother Goh Gaik Ewe, former Goldman Sachs banker Roger Ng and his wife Lim Hwee Bin as respondents in the forfeiture claim.
Rembulan had not entered an appearance in court despite the court papers of the forfeiture having been served on them.
As the parties were missing and had not entered an appearance, the prosecution will continue to forfeit the items and amounts claimed.
The Edge is covering the trial live here.
Users of The Edge Markets app may tap here to access the live report.