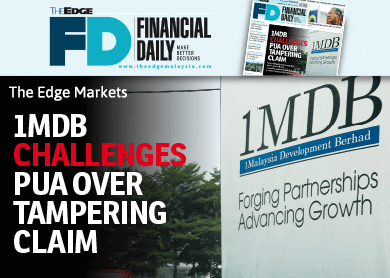 KUALA LUMPUR: 1Malaysia Development Bhd (1MDB) has questioned a federal lawmaker's allegations that it shared financial statements with banks that had been tampered with when he was not privy to the company's internal dealings.
In a statement yesterday, 1MDB said Petaling Jaya Utara Member of Parliament Tony Pua's allegations earlier the same day were "unsubstantiated and damaging" and that Pua, a third party, not a banker to 1MDB nor privy to 1MDB's internal dealings, has no basis for making the allegations.
"We note that YB Tony Pua has declined to elaborate further on the 'valid reasons' behind his statements. In any event, interaction between 1MDB and its bankers, including confidentiality obligations, are governed by contract and national law," said 1MDB.
It also said none of its lenders has declared an event of default for the reasons highlighted by Pua.
It further said its official financial statements are also publicly available on Companies Commission of Malaysia (SSM) website, and that any concerned party can access the documents for verification purposes with "a few clicks of a mouse".
"1MDB regrets that such statements on the company are being made by a third party such as YB Tony Pua and reported as fact on social media and online news websites. Such actions impact the day-to-day operations of 1MDB, a 100% government-owned company, and the implementation of the 1MDB rationalisation plan," said 1MDB. 
It also requested that all parties refer to official statements issued by 1MDB and its publicly available audited accounts for factually correct information.
Pua told a media conference earlier that 1MDB had changed the word "utilised" to "set aside" in its latest audited financial statements for March 2014, which he said would provide a false assurance to lenders that 1MDB had "set aside" nearly US$1.22 billion in cash to pay them when its interest and loans become due.
"By changing just one word, from 'utilised' to 'set aside', 1MDB has transformed entirely the meaning of the paragraph. Based on the certified true copy lodged with the SSM, the auditors confirmed that the US$1.22 billion redeemed has been more or less used up," Pua claimed.
He also said this is a serious issue and it would become a clear breach of warranty and representation by 1MDB to its lenders and  that such a breach was automatically tantamount to an "event of default" typical in nearly all loan agreements between lenders and borrowers. 
Pua said 1MDB still owes RM3.5 billion to a consortium of four local banks — Malayan Banking, RHB, Alliance and HwangDBS. Other banks with hundreds of millions of ringgit in exposure to 1MDB include AmBank and Affin Bank.
"By triggering the 'event of default', all of 1MDB's outstanding loans to these institutions will become immediately due and payable," he said.
"What is even worse is that the doctoring of 1MDB's financial statements is a very serious criminal offence under the Penal Code," he added.
He urged the banks to file police reports if discrepancies are found in the financial statements to protect their interests.
"If 1MDB is now so audacious as to doctor financial statements, I am now seriously concerned about the integrity of the various documents which it had submitted to the Auditor-General, including the minutes of the board of directors, directors' resolutions and other relevant documents," he added.
He also said the alleged tampering was "grander" than what former PetroSaudi International director Xavier Justo had been accused of doing to emails and other documents about 1MDB.
The Malaysian Insider reported that he was asked if he had proof that the financial statements for March 2014 furnished to the banks were tampered with, to which Pua said: "I am making the allegation. It would be ridiculous for me to make this allegation which can be easily disproved."
1MDB, which is also being investigated for allegations that billions of ringgit were channelled into Prime Minister Datuk Seri Najib Razak's personal bank accounts, had previously claimed that documents taken by Justo from PetroSaudi and leaked to Sarawak Report had been tampered with, which led to exposés over 1MDB's dealings.
Justo is now in police custody in Thailand where he is being investigated for alleged blackmail and extortion. 
This article first appeared in The Edge Financial Daily, on July 15, 2015.