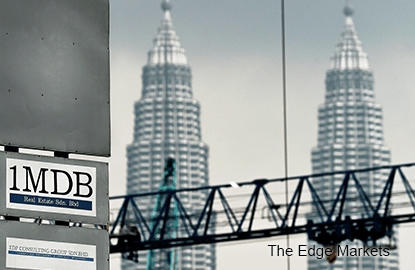 KUALA LUMPUR (July 20): 1Malaysia Development Bhd (1MDB) has categorised The Edge Financial Daily's (FD) centre spread article titled 'How Jho Low & PetroSaudi schemed to steal money from the people of Malaysia via 1MDB' as "irresponsible reporting".
In a statement today, 1MDB, which is currently under investigation by the Public Accounts Committee (PAC),  said that it has noted the "allegations" and "unsubstantiated statements" as published in the daily newspaper today.
"We are surprised that these old and unproven allegations are being recycled yet again, when in fact there are multiple ongoing investigations being conducted by the lawful authorities on the issues raised previously," said the investment fund, which is wholly owned by the Ministry of Finance.
In the article's footnote, the newspaper's publisher stated that the content was based on evidence corroborated by documents that included bank transfers and statements, which will be handed over to the relevant authorities.
"We have a public duty to find and report the truth. After this report, which could be our last, we will hand over everything we have to the authorities investigating 1MDB and assist in any way we can," the newspaper said.
In response to this, IMDB said any party, which can assist investigators, should do so under the purview of law, without resorting to such "irresponsible and unnecessary sensationalism".
"1MDB reiterates our trust in due process as evidenced by the professional and thorough ongoing investigations being conducted by the lawful authorities," it said.
1MDB came into the limelight mainly because of the whopping RM42 billion debts that it has racked up in the past five years. This raises public concerns as some of its debt papers were issued with the government's letter of support – meaning the government is responsible for the fund's debt repayment should it default.
The investment fund is stepping up efforts to hive off its assets, namely power generation plants and land, to ease its extremely tight cash flow as 1MDB has not been able to generate enough to service its debts.