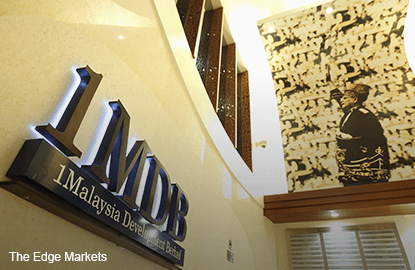 KUALA LUMPUR (April 7): The board of 1Malaysia Development Bhd (1MDB) decided to offer its resignation to the Minister of Finance Inc (MoF Inc) after the Public Accounts Committee (PAC) identified weakness in the governance and decision-making of the company.
In a statement today, 1MDB said the PAC report had clearly established various facts and dispelled numerous allegations about the company.
"The Board has successfully steered 1MDB through a uniquely challenging period and trusts that, with the release of the PAC Report, a line has been drawn.
"However, given the findings of the PAC report, the board has collectively this morning, decided to offer its resignation to MoF Inc, the 100% shareholder of 1MDB," 1MDB said.
1MDB said the decision was a difficult one, but the company believes it was the right thing to do to facilitate follow-up investigations, as recommended by the PAC.
According to 1MDB's website, 1MDB has a three-tiered governance structure comprising a board of advisors, board of directors and senior leadership team.
Its board of directors comprises chairman Tan Sri Lodin Wok Kamaruddin president and group executive director Arul Kanda, Datuk Shahrol Halmi, Tan Sri Ismee Ismail, Tan Sri Ong Gim Huat and Ashvin J. Valiram.
Lodin is chief executive of Lembaga Tabung Angkatan Tentera or Armed Forces Fund Board. Shahrol was 1MDB's former chief executive officer.
1MDB's board of advisors includes Prime Minister Datuk Seri Najib Tun Razak and Sheikh Hamad bin Jassim bin Jabr Al-Thani. Najib is chairman of the board of advisors, while Sheikh Hamad is special advisor.
1MDB's board of advisors also includes Tan Sri Nor Mohamed Yakcop, Petronas chairman Tan Sri Mohd Sidek Hassan, Government Chief Secretary Tan Sri Dr Ali bin Hamsa and Finance Ministry Treasury Secretary General Tan Sri Dr Mohd Irwan Serigar Abdullah.
In the statement, 1MDB said with the benefit of hindsight, it could understand how the National Audit Department and PAC could identify its lapses and shortcomings.
1MDB emphasised that its operations were complex and the company's decisions were based on specific transactions.
 
1MDB said "it is important to understand that the decisions were made in the context of specific transactions at that point in time."
"Furthermore, 1MDB is a complex company, with multiple roles of undertaking large strategic projects, establishing collaboration with foreign government entities and attracting foreign direct investment (FDI) to Malaysia.
"More importantly, the funds of 1MDB have been fully accounted for and there is no case of "RM 42 billion missing", as has been alleged by some irresponsible parties. It has also been confirmed that 1MDB did not transfer RM 2.6 billion to the personal accounts of the Prime Minister as had been alleged," 1MDB said.
1MDB says 'board has done its best' despite substantial borrowings
1MDB said it was well-known that it only had RM 1 million cash equity, which necessitated heavy dependence on borrowings to fund investments.
Despite this, 1MDB said the board had done its best to manage the company, so that it would not be a financial burden to the Government.
This includes implementation of corporate governance measures like standard operating procedures for the company and setting up a board audit and risk management committee, according to 1MDB.
"In particular, the moment a cash-flow mismatch was identified in November 2014, the board acted immediately to appoint a professional restructuring specialist to lead 1MDB.
"This led to a strategic review being conducted, which resulted in the success of the on-going rationalisation plan that has resolved 1MDB's debt burden."