This article first appeared in The Edge Malaysia Weekly, on November 25, 2019 - December 01, 2019.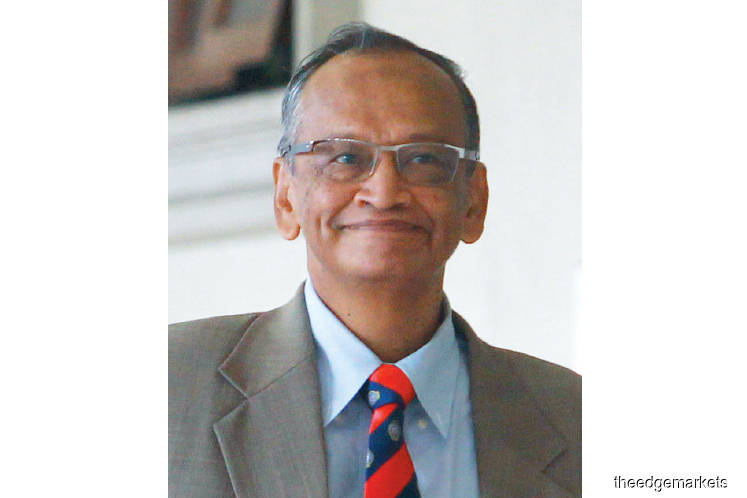 THE National Audit Department (NAD), led by the then auditor-general Tan Sri Ambrin Buang, strenuously defended its findings and attempted to exert its independence during a meeting in 2016 with top government officials to discuss certain items in the department's audit report on 1MDB that displeased former prime minister Datuk Seri Najib Razak, it was revealed in the High Court last week.
While most government officers had turned a blind eye to the obvious deception and fraud then taking place in 1MDB for fear of losing their jobs and entitlements, NAD officers not only risked theirs by arguing for the report to be kept intact at the Feb 24, 2016, meeting but also stuck their necks out to do more.
NAD auditor (governance) division director Nor Salwani Muhammad surreptitiously recorded the meeting — although it was for the purposes of taking meeting minutes — and made a decision to keep a copy of the disputed report — for "reference" purposes — even though she had been ordered to shred all 60 copies of the report as Najib had indicated that he was not happy with it and his coterie of senior officers decided a more favourable report was required.
An audio recording of the meeting attended by the handful of senior government officials played in court last week quite clearly underlined their positions.
While Ambrin and NAD's former audit director,  Saadatul Nafisah Bashir Ahmad, insisted that the NAD's findings be kept intact, some of the others wanted certain items removed or revised in an attempt to hide the veracity of the issue.
"What is the purpose of the audit?" a visibly upset Ambrin was heard muttering as he left the meeting chaired by the then chief secretary to the government, Tan Sri Ali Hamsa, Nor Salwani testified.
Ambrin also testified last week that the NAD had faced difficulties auditing 1MDB, after being directed by the Public Accounts Committee and the Cabinet to do so in March 2015, as the company was hesitant or late in providing original and important documents.
"This limitation had a significant impact on the audits carried out in verifying 1MDB's financial position and operations," he said, adding that to make matters worse, it did not submit the company's management accounts for the year ended March 31, 2015, and bank statements from overseas banks.
"No access can be made to the computers, notebooks and servers in 1MDB to obtain data and information for the purpose of cross-reference and analysis during auditing. In this situation, I find the 1MDB auditing difficult and that it took almost a year to complete when, in fact, it could have only taken within five months," the 70-year-old former auditor-general told the court.
Jho Low's name removed
Besides Ambrin and Saadatul, other senior government officials at the Feb 24 audit meeting were Najib's chief private secretary Tan Sri Shukry Mohd Salleh, Attorney-General's Chambers representative Datuk (now Tan Sri) Dzulkifli Ahmad, 1MDB CEO Arul Kanda Kandasamy and Treasury deputy secretary-general Datuk Seri Mohamad Isa Hussain.
As chair, Ali raised, paragraph by paragraph, issues in the report that were described to be contentious.
One of the items that Shukry wanted removed, as revealed during the audio recording, was any reference to Low Taek Jho's presence in the Terengganu Investment Authority (TIA) meeting in 2009 since Low — now in hiding — did not hold any official position in the government or TIA, which subsequently morphed into 1MDB.
Saadatul fought for its inclusion, but Shukry said the presence of Low's name was highly sensitive and that the matter could be used by the opposition to attack Najib.
Arul Kanda, on the other hand, requested the removal of the portion relating to 1MDB's RM5 billion Islamic medium-term notes (IMTNs) and Low's Singapore-based Acme Time Ltd as he argued that it went beyond the scope of the audit.
In her testimony, Nor Salwani said Low made close to US$126 million after he made a quick flip of the IMTNs that had been subscribed at a steep discount. AmBank, as the lead arranger and primary subscriber to the bond, had proceeded with the issuance with TIA following an agreement signed on May 15, 2009.
"AmBank signed a secondary subscription agreement with Country Group Securities Public Company Ltd (CGS) on May 18, 2009," she said.
"CGS, in turn, signed a put option agreement with Acme Time as a joint-transaction partner. According to Bank Negara Malaysia, Acme Time is owned by Low. AmBank's place-out profit totalled US$127.27 million, where payment was made to CGS (US$1.3 million) and Acme Time (US$113.42 million and US$12.55 million)," she said of the particular portion that the NAD had been directed to removed.
Arul Kanda complained audit report "not factual"
Arul Kanda also voiced his disapproval over matters in the report, which he described as "not factual and were merely hearsay", according to Ali's testimony.
"Arul Kanda insisted that the 1MDB report prepared by the NAD be in accordance with what he (Arul Kanda) wants. I then asked Ambrin to answer and the then auditor-general said there were difficulties faced by the NAD's 1MDB auditing team throughout the auditing process.
"Ambrin brought up the issue of two different versions of 1MDB's financial statements for 2014. I asked Arul Kanda to explain and he admitted that there were two different versions of the 1MDB financial statements and insisted the conflicting versions not be included in the NAD's 1MDB audit report, and asked for a police investigation," Ali said, adding that he had instructed Mohamad Isa to lodge a police report, but later discovered that he had not done so.
Another alteration that Shukry wanted related to Najib's meeting with the then Yang di-Pertuan Agong on May 27, 2009, to request a halt to the issuance of the IMTNs — a point that the former prime minister had not informed the Cabinet on the same day even though there was a Cabinet meeting. Arul Kanda argued that the issue should be removed as it was a "business decision".
Ali asked Ambrin for his views and the former auditor-general said he was unsure.
"I sought legal advice from Dzulkifli and he informed me that he agreed that it was a business decision and it was not necessary for Najib to raise it at the Cabinet meeting. Following the explanation, Ambrin agreed to remove that portion," said Ali.
Dzulkifli was later promoted to the position of chief commissioner of the Malaysian Anti-Corruption Agency, but was removed in May last year after the 14th general election.
The charges
Najib is charged with abusing his power as a public officer, where as prime minister and finance finister, he directed changes to the 1MDB audit report before it was finalised and tabled to the Public Accounts Committee, so as to be protected from any civil action or criminal prosecution taken against him.
He is alleged to have committed the offence at the Prime Minister's Department Complex between Feb 22 and 26, 2016.
He is charged under Section 23(1) of the Malaysian Anti-Corruption Act 2009, which is punishable under Section 24(1) of the same Act. If convicted, he can be fined a minimum RM10,000 or five times the gratification and jailed for up to 20 years.
Arul Kanda, is charged with abetting Najib under Section 28(1) of the MACC Act 2009, and faces the same punishment under Section 24(1).