This article first appeared in The Edge Malaysia Weekly, on December 2, 2019 - December 08, 2019.
Click / Tap image to enlarge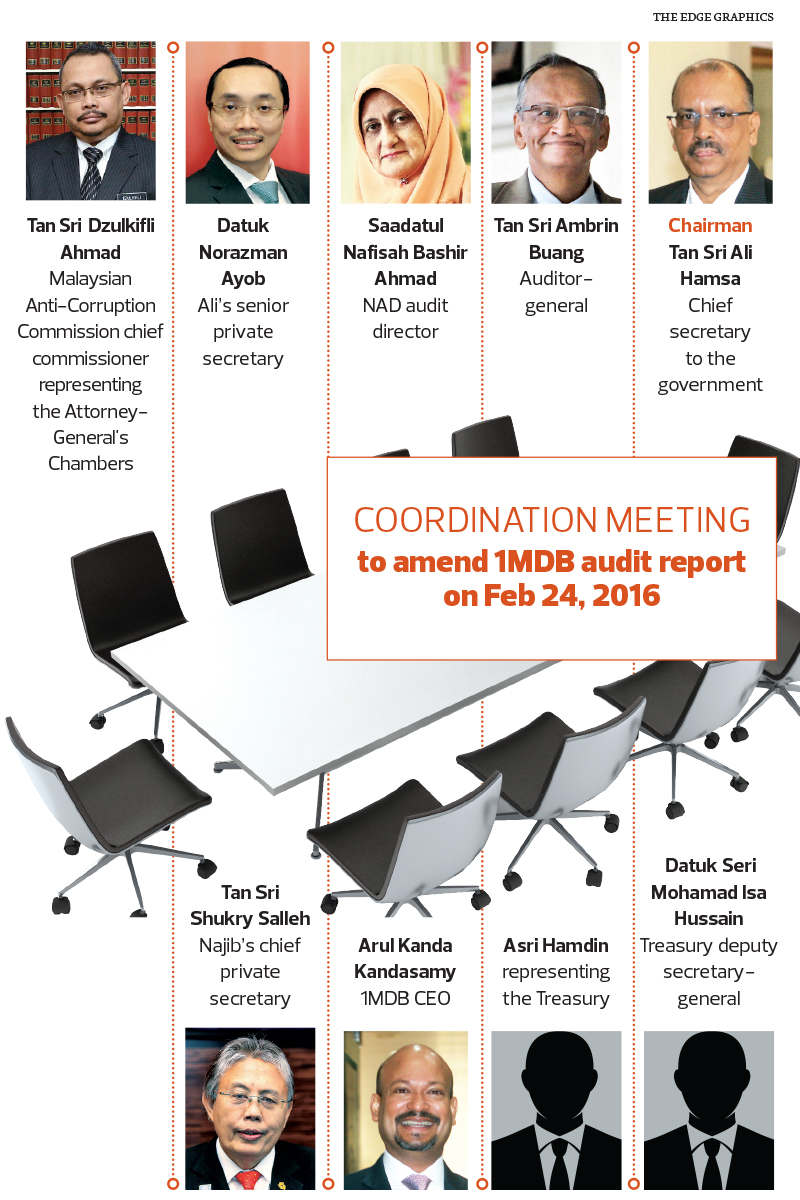 FOR former auditor-general Tan Sri Ambrin Buang, auditing 1Malaysia Development Bhd (1MDB) was the most arduous and problematic assignment in his 10 years helming the National Audit Department (NAD) — a task most agree he undertook with integrity but others may contend it fell short of expected standards.
Ambrin's testimony to the High Court last week in the audit tampering trial of former prime minister Datuk Seri Najib Razak and former 1MDB CEO Arul Kanda Kandasamy revealed his inner conflict when he used the words "frustrated", "disappointed" and "cheated" to describe his feelings during the period.
Not only was the state-owned auditee (1MDB) recalcitrant and uncooperative, even worse was the pressure to amend certain parts of the audit report that were exerted by Najib directly as well as others looking to protect Najib.
Ambrin, the sixth prosecution witness in the 1MDB audit tampering trial, said he felt frustrated and disappointed when Najib and the then chief secretary to the government Tan Sri Ali Hamsa requested the NAD to amend its audit report on 1MDB, which had already been finalised ahead of a presentation to the Public Accounts Committee (PAC) of parliament established to look into 1MDB's dealings.
The audit, which began on March 9, 2015, took almost a year — more than double the five months it could have been completed in — the 70-year-old said, owing to limitations encountered by the special audit team of 12 officers.
Original and important documents needed to verify transactions and audit evidence were either submitted late or were not submitted at all by 1MDB, which also provided no access to its computers, notebooks and servers to obtain data and information for the purpose of cross-referencing and analysis during the audit.
"These limitations had a significant impact on the audits carried out in verifying the financial position and operations of the company and related transactions," Ambrin explained.
And when the report was ready to be submitted to the PAC on Feb 24, 2016, he was summoned on Feb 22 to meet Najib, who having asked for an advance copy, expressed his unhappiness at some of the findings.
Najib wanted the issue of 1MDB having two versions of its financial statements excised from the report and assured his administration would instruct the relevant authorities to "get to the bottom" of the matter.
Ultimately, Ambrin agreed to four amendments, based on the assurance by Najib and two days later, by Ali at a "coordination meeting" between 1MDB stakeholders and the NAD's audit team that Finance Ministry's representatives would lodge a police report over possible fraud or concealment of facts leading to irregularities in 1MDB's financials.
"After a few days, I asked my staff to check if any police report was lodged, and the answer was no," he said, adding that he felt cheated at the time.
In any event, he had already agreed to four amendments — albeit grudgingly as an audio recording of the Feb 24 meeting played in court last week revealed.
In a bid to maintain the original report, Ambrin raised his voice several times, prompting Ali to remark that he should "keep his feelings [of disappointment] to himself".
NAD director Nor Salwani Muhammad also previously testified that Ambrin appeared "fragile" after the meeting and was heard to mumble, 'What is the purpose of [having] the audit?'
At the meeting, Ali had attempted to influence the report's "summary" where the auditor-general had commented that 1MDB was debt-laden and suffered from weak governance.
A frustrated-sounding Ambrin sarcastically suggested dropping the entire chapter to keep "everybody happy".
"Maybe we just drop the rumusan (summary), keep all my feelings with me, everybody happy," he remarked.
"Maybe we can write a separate book on this," Ali quipped. "I will write a book and get it distributed after I die," Ambrin responded.
In court, Najib's lead counsel Tan Sri Muhammad Shafee Abdullah questioned if he had compromised his integrity to accommodate the request for amendments, pointing out that Ambrin could have chosen to resign then.
Ambrin replied that his conscience is clear. He told senior deputy public prosecutor Datuk Seri Gopal Sri Ram that his impression during the coordination meeting that the government was "very worried" about the audit report.
Ambrin also contended that the amendments aside, he was of the opinion that the audit report contained sufficient information to allow the relevant authorities to initiate follow-up action on the wrongdoings in 1MDB.
Apart from Ali and Ambrin, the coordination meeting was also attended by Arul Kanda, NAD audit director Saadatul Nafisah Bashir Ahmad, Treasury representatives Datuk Seri Mohamad Isa Hussain and Asri Hamdin, Najib's chief private secretary Tan Sri Shukry Salleh, representative from the Attorney-General's Chambers Tan Sri Dzulkifli Ahmad, who is also former Malaysian Anti-Corruption Commission chief commissioner, and Ali's private secretary Datuk Norazman Ayob.
Last Thursday was the final scheduled trial date this year for the audit report tampering case. Judge Mohamed Zaini Mazlan has set Jan 9 next year for mention, and tentative hearing dates of Jan 13 to 16, March 9 to 11, April 6 to 9 and April 13 to 16.
The charges
Najib is charged with abusing his power as a public officer, where as prime minister and finance minister, he directed changes to the 1MDB audit report before it was finalised and tabled to the Public Accounts Committee, so as to avoid any civil action or criminal prosecution against him.
He is alleged to have committed the offence at the Prime Minister's Department Complex between Feb 22 and Feb 26, 2016.
He is charged under Section 23 (1) of the Malaysian Anti-Corruption Act 2009, which is punishable under Section 24 (1) of the same Act.
If convicted, he can be be fined a minimum RM10,000 or five times the gratification and jailed up to 20 years.
Arul Kanda is charged with abetting Najib under Section 28 (1) of the MACC Act 2009 and faces the same punishment under Section 24 (1).