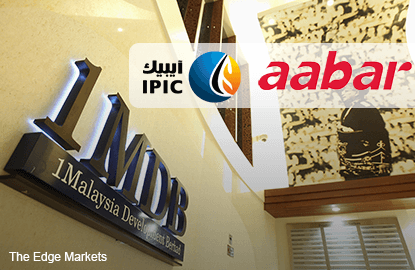 KUALA LUMPUR (July 11): 1Malaysia Development Bhd (1MDB) said it has agreed today to the request for arbitration (RFA) filed by International Petroleum Investment Co (IPIC) and Aabar Investments PJS (Aabar) at the London Court of International Arbitration.
In a statement, 1MDB said it is confident of its legal position and has submitted a formal and "robust" response to the RFA through its legal counsel, Weil Gotshal & Manges, a specialist in international litigation.
"1MDB reiterates that, notwithstanding the dispute with IPIC, it will continue to implement the rationalisation plan and remains able to honour its current debt obligations," it added.
1MDB said it has paid the RM1.579 million interest coupon on the RM2.4 billion Bandar Malaysia sukuk due 2024 last month, and also made a scheduled coupon payment amounting to RM143.75 million on its RM5 billion 5.75% Islamic Medium Term Notes due 2039 in May.
On June 15, the Abu Dhabi sovereign wealth fund IPIC and Aabar submitted an RFA to the London Court of International Arbitration to claim US$6.5 billion (RM26.7 billion) from 1MDB.
The RFA is in regard to IPIC's claim that 1MDB and the Minister of Finance Inc (MoF Inc) have failed to perform their contractual obligations under the binding term sheet (BTS).
IPIC had also said the claim will be determined by an arbitral tribunal that will comprise three arbitrators in accordance with the BTS and the London Court of International Arbitration's rules.
The dispute between IPIC and 1MDB arose after IPIC said in April it never received a US$3.5 billion payment from 1MDB. It had revealed that the British Virgins Island-registered Aabar Investment PJS Ltd, to whom 1MDB said it had paid the sum, is not related to the group.
Subsequently, 1MDB defaulted on two interest payments — one was due in April and another in early May — on two 1MDB bonds worth US$1.75 billion each. The defaults resulted in IPIC assuming the interest payments totalling US$102.4 million as co-guarantor of the bonds.
Despite its default on the interest payments, 1MDB has repeatedly said it has sufficient liquidity to meet its financial obligation.