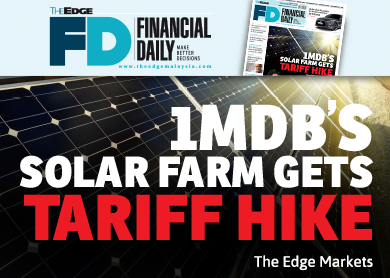 KUALA LUMPUR: After a series of hiccups on its road to list on Bursa Malaysia, Edra Global Energy Bhd appears to have gained some traction with its proposed 50mw solar power plant project getting a tariff increase of up to 20%.
According to an industry source, the Energy Commission (EC) and the Energy, Water and Green Technology Ministry recently approved an increase in tariff to a maximum of 50 sen per kilowatt-hour (kWh) from approximately 41 sen per kWh before.
"The previous tariff was deemed simply too low for the project to be feasible. The new tariff was negotiated on the basis that Edra caps its internal rate of return for the project at a maximum of 9%," the source told The Edge Financial Daily.
Although the revised tariff will be one of the more expensive on dispatch order, it is worth noting that Edra's 50 sen per kWh will still be the cheapest solar tariff in the country. In comparison, the lowest tariff that the Sustainable Energy Development Authority has given out was 61.2 sen per kWh.
Furthermore, solar plants operate as peaking plants and should still be able to displace some of the more expensive open-cycle gas turbine plants.
Depending on Edra's costing, the final tariff could potentially be lower than 50 sen per kWh. At this stage, the solar project is estimated to cost slightly less than RM450 million, including land acquisition, said sources.
Edra has opened a tender for engineering procurement and construction bids for the solar project, with a bid submission deadline in mid-May.
Documents seen by The Edge Financial Daily showed that Edra has identified a 105ha site in Kuala Ketil, Kedah, next to Kolej Universiti Insaniah, for the plant.
When completed, Edra's solar power plant will be the largest of its kind in Malaysia.
Getting this project off the ground would be welcome news for 1Malaysia Development Bhd's (1MDB) energy unit, which is still hoping to list in the near future after withdrawing its initial application for an initial public offering (IPO) earlier this year.
Debt-laden 1MDB, which is controlled by the Ministry of Finance, is under pressure to list Edra to settle some of its RM42 billion borrowings.
Edra's listing was withdrawn after material changes had to be made to the IPO, including the ongoing disposal of the 2,000mw coal-fired power plant Project 3B, to Tenaga Nasional Bhd (TNB).
Edra had to give up Project 3B to TNB because the former was unable to raise the necessary financing. Coupled with potentially expensive delays, Project 3B would have been a negative drag on Edra's listing ambition.
It is understood that TNB has completed due diligence on Project 3B and is finalising negotiations to take over the greenfield project.
To make Project 3B financially viable, however, TNB is expected to negotiate with the EC for a higher tariff. Given there is an expected shortfall in national power generation capacity going forward, the EC is widely expected to give Project 3B a tariff revision to ensure that it is completed on time.
At the same time, TNB will take a 20% to 25% stake in the solar project, said sources. Edra will take up the remaining equity. Previously there was an American party in the venture but it has since decided to pull out, the sources said.
Recall that the solar project was awarded to 1MDB early last year on a direct negotiation basis. It is understood that the award is for the development of up to 500mw of solar power and the first 50mw that is being undertaken is simply a pilot project. Hence, if this first project is successful, there is more upside for Edra — as much as 450mw more.
The main challenge with planting up solar plants, however, is finding suitable land, or in this case, land unsuitable for other uses. Most land in Malaysia is relatively fertile with competing agricultural and plantation uses.
In fact, the 105ha site in Kuala Ketil that Edra is looking at is currently a palm oil plantation. However, it is understood that the trees are old and due for replanting.
According to sources, the land is being acquired from the Kedah government for approximately RM35 million or RM3 per sq ft.
So far, Edra has put down a 10% refundable deposit, said sources, adding that it has received a "no objection" from the Department of Environment to use the land.
This article first appeared in The Edge Financial Daily, on April 20, 2015.