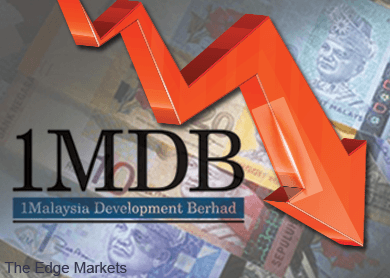 KUALA LUMPUR (January 6): 1Malaysia Development Bhd's (1MDB) failure to settle a RM2 billion loan to local lenders has been a factor behind the extended drop in the ringgit against the dollar, an economist said.
The Edge Financial Daily, quoting sources, reported today that the sovereign fund had missed its Dec 31, 2014, deadline for settlement of the loan, and had received an extension up to Jan 30, 2015, to settle the outstanding payment.
The RM2 billion amount was part of a RM5.5 billion debt taken through its subsidiary Powertek Investment Holdings Sdn Bhd in May 2014 to refinance a RM6.17 billion bridging loan taken in 2012 to part finance the purchase of power assets.
The remaining RM3.5 billion has been converted into a 10-year term loan due in August 2024.
An economist, who is attached to a local bank-backed research house but declined to be quoted, said that while factors such as the drop in oil prices and worries of a twin deficit had influenced the overall weakness of the ringgit, the currency's decline past the RM3.50 level could have been due to 1MDB.
"1MDB's failure to settle the RM2 billion loan has added to concerns about the overall financial stature of the sovereign fund, which has a knock-on effect on the ringgit, as we are not sure how much of its debt is backed by the government," he told theedgemarkets.com.
He added that the 1MDB's situation had further stoked worries regarding the Malaysian government's financials.
However, 1MDB aside, he said that the performance of the ringgit would largely depend on oil prices.
"Principally, the main concern is on oil prices, which has resulted in some selling pressure for the ringgit, due to Malaysia's position as a net oil exporter," he said.
According to Bloomberg data, the ringgit has weakened to RM3.5553 against the US dollar, its lowest since 2009. Meanwhile, Brent crude oil hovered around US$53.50 per barrel.