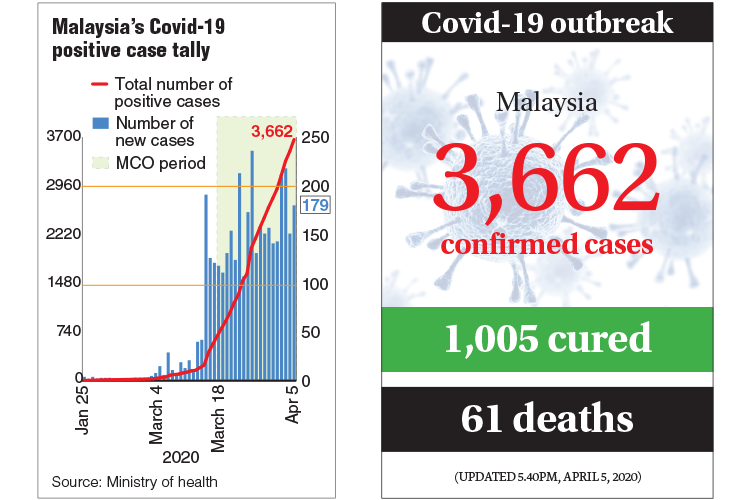 Click / Tap image to enlarge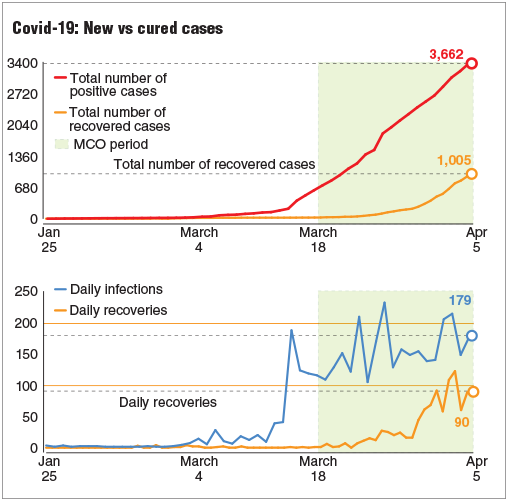 Click / Tap image to enlarge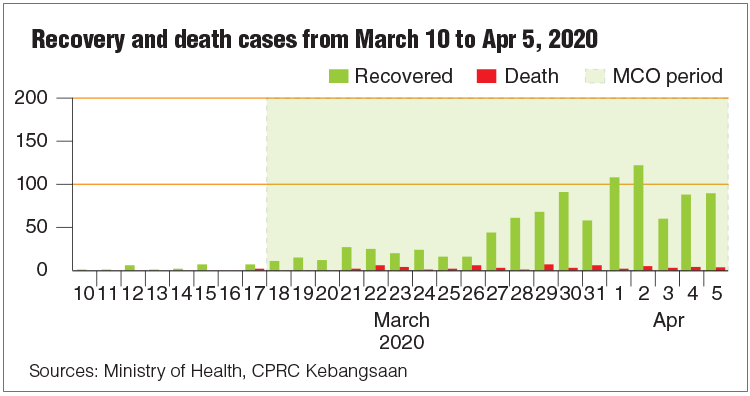 KUALA LUMPUR (April 5): The Ministry of Health (MoH) reported 179 new Covid-19 positive cases, bringing the total to 3,662 confirmed cases as at noon today. 
Of the 179 new cases, 46 were traced to the religious or tabligh gathering at the Sri Petaling Jamek Mosque between Feb 27 and March 1. 
Meanwhile, 90 patients have recovered and were discharged today. The number of recovered cases in Malaysia rose to 1,005 or 27.4% of the total.
Speaking at the daily media update on the Covid-19 outbreak, MoH director-general Datuk Dr Noor Hisham Abdullah revealed that the ministry has screened 17,012 attendees of the tabligh assembly at Sri Petaling. 
So far, there are 1,591 positive cases related to the Sri Petaling tabligh cluster, while 10,912 tested negative.
"Nonetheless, we would like to take this opportunity to thank the Majlis Syura of the tabligh group that has given us full cooperation in terms of localising their members as well as advising their members to come forward for testing," he told the press conference today.
"We also learned that some of the tabligh group members are still overseas, for example in India, Indonesia and Pakistan. So they have not returned yet... when they are back, we need to work with the police again as well as the immigration department to make sure they come forward for the testing," Dr Noor Hisham added.
Currently, 99 patients are being treated in intensive care units, with 48 of them requiring respiratory assistance.
There were four new deaths today, all of which aged 50 years and above, raising the country's death toll to 61.
Dr Noor Hisham said the 58th death involved a 72-year-old man who had a history of diabetes and high blood pressure. He contracted the coronavirus through direct contact with patient no 1,031, and was treated in Sarawak General Hospital from March 27 until he passed away yesterday.
Another death was also recorded at Sarawak General Hospital yesterday involving a 53-year-old man.
Next was a 68-year-old man who had a history of diabetes. He passed away yesterday in Kuala Lumpur Hospital.
The 61st death involved a 66-year-old man with a history of diabetes, high blood pressure and kidney diseases. He was treated in Keningau Hospital, Sabah, from March 26 until he passed away last night. 
"MoH [extends its] condolences to the families of the deceased," Dr Noor Hisham said. 
Read also: Covid-19: Italy-trip cluster widens, with 37 confirmed infections
#dudukrumahdiamdiam. We will deliver the news to you at theedgemarkets.com.