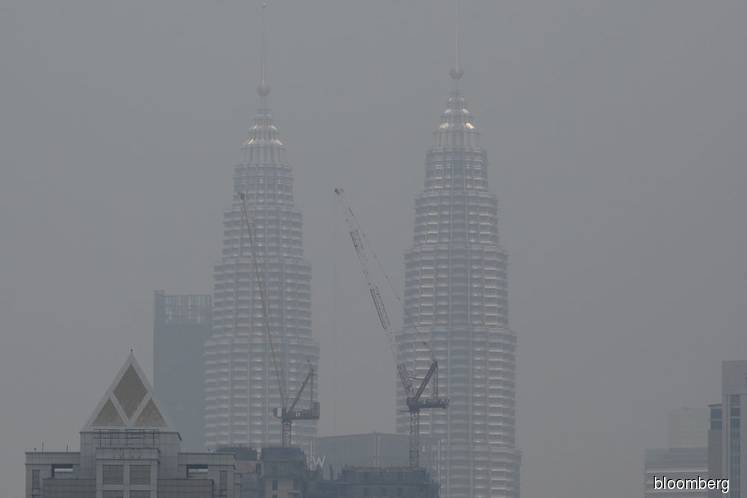 PUTRAJAYA (Sept 10): Sixteen stations across the country recorded unhealthy Air Pollutant Index (API) readings but none recorded very unhealthy air quality as at 10am today.
The Department of Environment (DOE) in a statement said Sri Aman, Sarawak recorded the highest API reading at 195, followed by Rompin, Pahang (192).
Five areas in Selangor also has unhealthy air quality, namely Johan Setia with the API reading of 160, Petaling Jaya (137), Shah Alam (127), Banting (122) and Klang (119).
Batu Muda and Cheras in Kuala Lumpur recorded API reading of 152 and 145 recpectively; Kuching, Sarawak (149); Nilai, Negeri Sembilan (142); Putrajaya (136); Samarahan, Sarawak (122), Seremban, Negeri Sembilan (115), Bukit Rambai, Melaka (103), Tangkak, Johor (110).
An API reading of 0-50 shows good air quality, 51-100 (moderate), 101-200 (unhealthy), 201-300 (very unhealthy) while 300 and above is hazardous.
The DOE said forest fires in Sumatra and Kalimantan, Indonesia, were still causing transboundary haze and had increased the API readings in all areas along the west coast of Peninsular Malaysia and western Sarawak.
In NEGERI SEMBILAN, the unhealthy API reading in Nilai had risen to 152 at 3 pm from 142 in the morning. 
Two other areas with unhealthy API reading were Seremban (121) and Port Dickson (105).
Bernama checks in Seremban found that the haze had also caused limited visibility, but had not affected the daily activities of the residents.
Meanwhile, the Negeri Sembilan DOE had activated its Open Burning Action Plan to tackle the unhealthy API readings in the state.
State Health, Environment, Cooperatives and Consumerism Committee chairman S.Veerapan said the anti-open burning monitoring and patrolling activities would also be intensified using drones.
"The state government, local authorities and all landowners are advised to closely monitor fire-prone areas, such as landfills, forests, peatlands, farms, agricultural and industrial areas and take steps to prevent anyone from causing open burning either for a specific purpose or accidentally," he said.