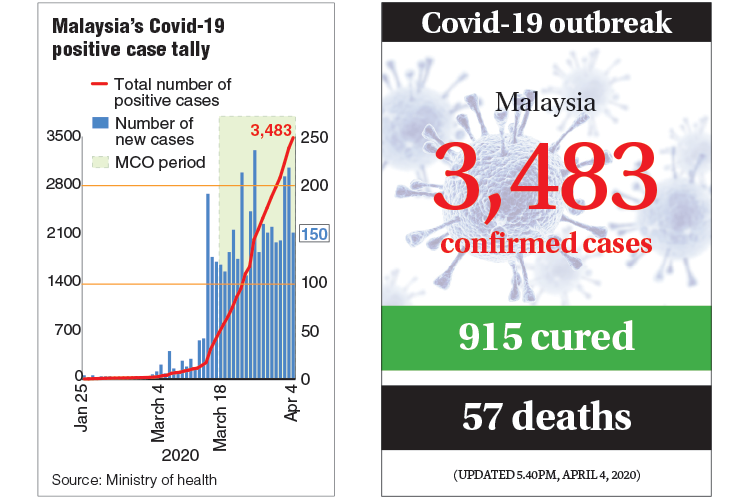 Click / Tap image to enlarge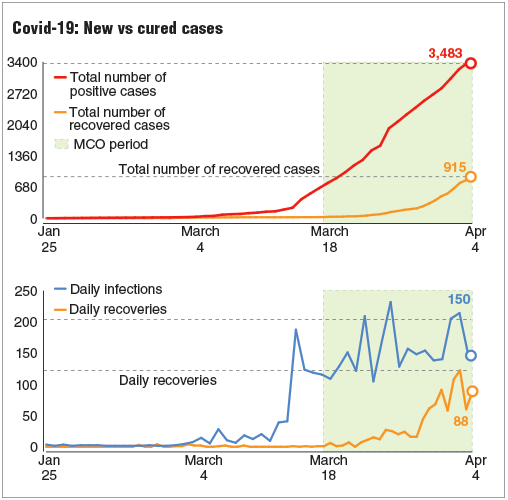 Click / Tap image to enlarge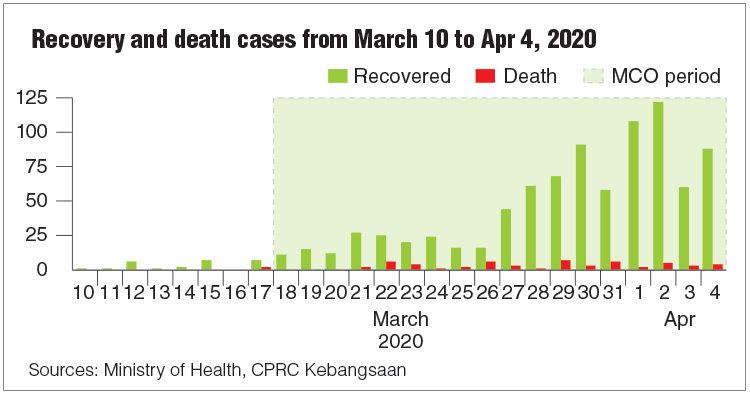 KUALA LUMPUR (April 4): The Ministry of Health (MoH) announced 150 new confirmed Covid-19 cases as at noon today, bringing the tally to 3,483 in Malaysia.
According to the MoH, 88 patients have recovered and they have been discharged today, raising the total number of cured cases 915, or slightly more than one-quarter of the tally of 3,483.
The daily figure dropped 67, or 30.8%, from 217 yesterday (April 3) after it had been above 200 for two consecutive days.
Of the 150 new cases, 80 were related to the tabligh assembly at the Seri Petaling mosque. So far, a total of 1,545 cases, or 44.36% of the total cases, are related to this cluster.
"This cluster has been the largest cluster so far and has had several generations of infections, such as involving their family members, close contacts in mosques and even in tahfiz schools," MoH director-general Datuk Dr Noor Hisham Abdullah told a press conference today.
There are 99 patients currently under intensive care, of whom 50 are on respiratory assistance.
The country's death toll increased to 57, with four new cases today. Two of the cases were female and the other two were male, all of whom had a history of other complications.
The first woman was an 85-year-old who had heart diseases and was treated at the National Heart Institute (IJN). The second woman, patient no. 860, is a 66-year-old with a history of high blood pressure. She was admitted to Hospital Sultan Ismail Petra, Kelantan, since March 18 and passed away at 4pm yesterday.
The 56th death involved a 56-year-old male who had a history of heart diseases. He had close contact with patient no. 1031 and was treated in Sarawak General Hospital.
The fourth death was a 61-year-old male with diabetes who passed away yesterday at Hospital Tengku Ampuan Afzan, Kuantan, Pahang.
A total of 49,570 individuals have been tested for Covid-19 infections, of whom 8,647 are currently waiting for the results, while 37,440 are confirmed negative. 
As of yesterday, Lembah Pantai, one of the 17 red zone areas in the country, leads with the highest number of infections at 322 cases. This is followed by Hulu Langat, where the government has already imposed enhanced movement control order (EMCO) in several parts of the area, with 302 cases. The third highest red zone area is Petaling with 292 cases, based on MoH's statistics as at noon, April 3.
Other red zone areas are Seremban (141), Johor Bharu (136), Kluang (132), Kepong (100), Klang (88), Titiwangsa (84), Kota Bharu (82), Kinta (82), Gombak (76) and Hilir Perak (61).
At the state level, Selangor continues to lead with the highest number of cases at 863, followed by Kuala Lumpur (543), Johor (416) and Sarawak (153).
In East Malaysia, Kuching and Tawau have the highest number of infections, with 153 and 63 cases respectively.
Malaysia is currently the country with the highest number of confirmed Covid-19 cases in Asean and the fifth in Asia, after China (81,639), Iran (55,743), South Korea (10,156) and Israel (7,580).
Read also:
Sri Petaling tabligh cluster expands, Nor Hisham urges attendees to report to MoH
Lembah Pantai has highest number of Covid-19 cases; Jerantut, Batu Pahat now red zones
#dudukrumahdiamdiam and get the news at theedgemarkets.com.