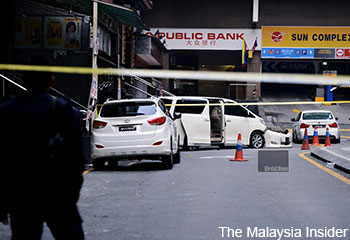 (October 9): Fourteen people were injured early this morning when a hand grenade exploded in front of a pub along Jalan Bukit Bintang in the heart of the city.
According to police sources, car jockey Tiong Kwang Yie was seriously injured and is in critical condition.
"Police received a complaint at 4.25am and sent a despatch to the Cherry Blossom nightclub to ascertain the damage.
"Initial reports indicate that two hand grenades had been thrown from the second floor of a building."
The injured, aged between 20 and 42, were sent to Kuala Lumpur Hospital and Tung Shin Hospital.
"The injured included nationals from Thailand (1), China (2) and Singapore (2). Some of them were club patrons," said one of the sources.
The victims have been identified as Lim Soon Hock, 51, Teoh Keow Meng, 40, Yaw Lee Hock, 41, C. Revindran, 49, and Tiong Kwang Yie.
The foreign nationals are Jasu (Thailand), Wong Kim Teng (Singapore), Ma Yunfeng and Yong Jiaqin (both China). The other five victims have not been identified.
"Initial investigations reveal that two hand grenades were thrown but only one exploded.
"Shrapnel from the hand grenade caused injuries to passers-by," the source added.
Four vehicles were damaged in the blast – a Toyota Vellfire (WVL 168), Toyota Camry (WTT 8999), Mazda 2 (WXJ 3333) and a BMW (WTV 36).
Police found the second hand grenade, which failed to explode, under the Toyota Camry.
"We believe this is linked to an underworld tussle."
A police forensic team is at the scene, combing the area for clues and interviewing witnesses.
According to police, checks revealed the hand grenades used had been issued in March 1983.
Kuala Lumpur police chief Datuk Tajudin Mohamad Isa told AFP that the unexploded grenade was not of the type used by the military or police.