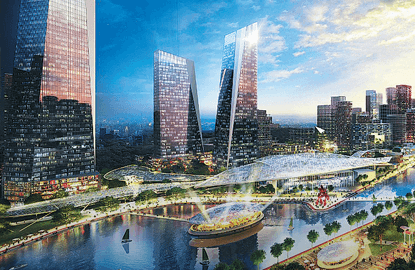 KUALA LUMPUR (Sept 1): A total of 12 companies have submitted proposals for the final stage of evaluation to participate as development partners in the 486-acre (196.67ha) Bandar Malaysia project in Sungai Besi.
In a statement today, CH Williams Talhar and Wong (WTW), the transaction advisor for the Bandar Malaysia request for proposal (RFP), announced that upon the close of bidding on Aug 28 2015, 12 companies had submitted their proposals.
"We have received highly competitive responses above and beyond our expectations. The 12 final stage bidders comprise of domestic private developers, government-linked companies (GLCs) and foreign parties, either submitting independently or as a consortium," said WTW Deputy Managing Director Danny Yeo.
WTW will now review the proposals and shall provide its recommendation to 1MDB Real Estate Sdn Bhd (1MDB RE), who will then shortlist selected final bidders, before entering into financial and share sale agreement negotiations.
WTW said the earlier expression of Interest (EOI) stage saw robust interest from 40 local and global players, including Singapore, China, Japan, Korea and Australia.
The bidders received an investment memorandum that outlined Bandar Malaysia's development vision and its proposed master plan. To progress to this final selection stage, these companies had to showcase their track record, branding and financial capabilities to be a development partner for Bandar Malaysia.
The commercialisation of Bandar Malaysia is part of a rationalisation plan for heavily-indebted 1Malaysia Development Bhd's (1MDB) that was presented to the Cabinet on May 29, 2015.
Meanwhile, 1MDB is encouraged by the high quality of bids received, and is confident in the success of the process.
"It is our plan to shortlist selected final bidders, enter detailed negotiations and execute a binding transaction by the end of 2015," said 1MDB Real Estate chief executive officer Datuk Azmar Talib.
He further emphasised that in making a final decision, the Board of Directors of 1MDB would be guided by, among other things, value maximisation to 1MDB's shareholders, deal certainty, and terms that are fair and reasonable.
Bandar Malaysia will be a mixed-use urban development that is expected to serve as a catalyst for the transformation of Greater Kuala Lumpur.
Located within 7km of Kuala Lumpur city centre (KLCC), the development will serve as Kuala Lumpur's gateway for the high-speed rail-line to Singapore and become a central transport hub in the city via mass rapid transit (MRT) 2 and 3, KTM Komuter, express rail link and future access to major highway networks.