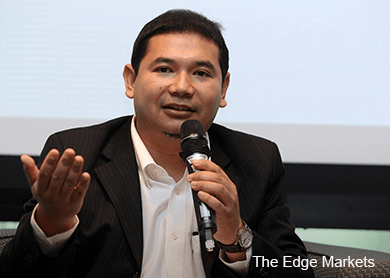 (May 27): The 11th Malaysia Plan (11MP) is merely a series of projects costing over RM200 billion planned to beef up the coffers of connected people and cronies with no real impact on the economy, an opposition lawmaker told a forum in Kuala Lumpur last night.
Pandan MP Rafizi Ramli further warned that if the people were not careful,  projects under the 11MP would be geared to pluck off the losses of debt-ridden state investment fund 1Malaysia Development Bhd (1MDB).
"You will hear of more and more projects under the 11th Malaysia Plan being built on 1MDB land, in Sungei Besi, in Tun Razak Exchange, in order to add value to 1MDB to be able to cover its losses," Rafizi said.
He said what was most important was to keep watch because just a little nod off could result in huge losses to the country.
He added that as such, it was crucial that the issue of governance be addressed radically in order to achieve economic targets, saying that RM42 billion could only have been lost if the "system was not working".
"If you have Bank Negara, Securities Commission and police on guard, you would not lose RM42 billion.
"You can only lose RM42 billion if the people that are supposed to be on guard are sleeping on the job," Rafizi told a forum titled "11 MP – Can the targets be achieved", at Universiti Malaya last night.
Another speaker at the forum, former Umno supreme council member Datuk Saifuddin Abdullah said 11MP was launched at a time when the government was suffering from trust deficit, which made it difficult for Putrajaya to convince the people that it was good policy.
He said in order to win back trust, Putrajaya must showcase more prudent spending and fight corruption in a more genuine and serious manner.
"We need to decide properly what we need to buy and what we don't need to buy,...  airplanes, and so on," he said, drawing laughter from the crowd.
Saifuddin said the government must also ensure an efficient and technology-driven procurement and bidding process where human intervention was not possible.
"The government will save a lot here, it is transparent, no envelope, no nothing," he added.
Saifuddin said while the government talked about public service transformation, wanting greater engagement with local communities and empowering local authorities in the 11MP, it failed to mention inclusivity in participatory decision-making process.
He added that from recent experiences, it seemed as though the government did not truly understand the meaning of inclusiveness.
"Two examples, the A-G (Attorney-General) and the Bar Council in their consultation for the Peaceful Assembly Act (PAA), and the JPA and Cuepacs in their consultation on the salary scheme.
"I don't think the government really understands the meaning of engagement and consultation going by these two cases," he said.
Saifuddin was referring to the tabling of the PAA where the Bar Council's concerns which were relayed to the government, including that some parts of the Act went against the Federal Constitution, were not taken into account.
And in the case of the Public Services Department (JPA) and Cuepacs, the union for civil servants has been unsuccessful so far in getting JPA to agree to a review of salaries and allowances for civil servants which has been deferred for the past 15 years.
Saifuddin, who is Global Movement of Moderates chief executive, said in wanting to move the country forward, the government must have a new governance framework where it was open to non-state actors, such as civil society and professionals, to ensure that input from civil society and businesses are taken into consideration when decisions are made.
"In most cases, to the government, consultation means, I have informed you or I have briefed you.
"That is not consultation, consultation must have three basic ground rules – empowerment, representation and participation," he said.
The 11MP, a five-year development blueprint, has six strategic thrusts namely inclusivity, people's wellbeing, human capital, green growth, infrastructure and innovation and productivity.
In order to achieve these strategies, Putrajaya would use six game-changers: increasing productivity; generating wealth through innovation; improving the percentage of the middle class; making education and technical training a core; implementing green growth; and investing in competitive cities.
The 11MP was launched by Prime Minister Datuk Seri Najib Razak last week, as the final lap to thrust the country into developed status by 2020. – The Malaysian Insider