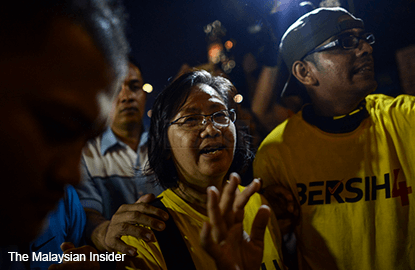 KUALA LUMPUR: Police questioned yesterday seven organisers of the Bersih 4 rally over the two-day demonstration last weekend, asking them about planning and execution details, as well as the RM2.4 million in public donations they had received.
Chairman of electoral reform group Bersih 2.0 Maria Chin Abdullah said police had also asked them about the contents of their media statement issued on July 29, about the launch of the rally on Aug 14 and details of each committee member.
"They asked us about the rally itself, how we managed it, how we dispersed the people at the end of the rally and how we organised our volunteers," she told reporters after meeting with the police at the Bukit Aman police headquarters yesterday.
"We, however, exercised our right not to answer many of the questions, including about the donation. We will answer them in court if we are charged."
Maria was questioned along with Bersih 2.0 secretariat member Sarajun Hoda Abdul Hassan, as well as Masjaliza Hamzah, Farhana Abdul Halim, Fadiah Nadwa Fikri and Adam Adli Abdul Halim, for two and a half hours yesterday.
They were accompanied by 10 lawyers, including Datuk Ambiga Sreenevasan, Ramkarpal Singh, Eric Paulsen and Latheefa Koya.
The seven were summoned yesterday following several police reports lodged against the organisers of the 34-hour rally on Saturday and Sunday in Kuala Lumpur.
They are being investigated for concealing a design to commit an offence, attempt to commit acts detrimental to parliamentary democracy and unlawful assembly, which are charges under Sections 120, 124C and 141 of the Penal Code.
Maria, who said Bersih had so far received RM2.45 million in donations, said an audit would be done on its accounts and they would also prepare a budget on what it was going to do with the money.
"Quite a bit will go into the rally. The rest will go for the delineation cases, voter education, voter registration as a run-up to the 14th general election," she said. — The Malaysian Insider
This article first appeared in digitaledge Daily, on September 3, 2015.