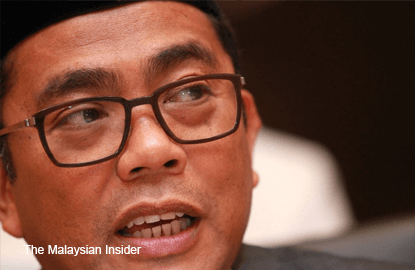 JOHOR BARU: Johor Menteri Besar Datuk Seri Khaled Nordin has urged Umno members not to let corruption become a culture, a day after the Malaysian Anti-Corruption Commission (MACC) cleared the prime minister of receiving billions of ringgit of 1MDB money. 
Umno must not allow itself to be used as a party to protect the interests of "a few" under the guise of "loyalty or discipline", the Johor menteri besar said yesterday, becoming the first state Umno chief to react publicly to Monday's clearance by the anti-graft body over the RM2.6 billion in the prime minister's bank accounts.
In a Facebook posting yesterday, Khaled said Umno cannot keep quiet if "corruption becomes a culture or trust is betrayed".
"Umno cannot keep quiet when the party no longer champions the cause of Malays but is instead used to defend a few under the name of loyalty or discipline in adhering to leaders," he wrote. "Umno can no longer stand by as an observer. The time has come for Umno to move forward, to be more proactive and dominant." 
Khaled's remarks come a week after Tan Sri Muhyiddin Yassin was sacked as deputy prime minister for questioning Prime Minister Datuk Seri Najib Razak's handling of debt-ridden 1Malaysia Development Bhd.  — The Malaysian Insider
This article first appeared in digitaledge Daily, on August 5, 2015.