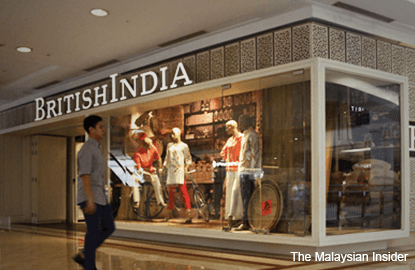 This article first appeared in The Edge Financial Daily, on November 3, 2015.
KUALA LUMPUR: Mall operator Suria KLCC Sdn Bhd threatened to hoard up BritishIndia's outlet on the first floor of the shopping complex on July 7 after the retailer paid rent for that month, the High Court heard yesterday.
Suria KLCC chief executive officer Andrew William Brien, testifying as the only defendant witness, said that the mall management took the position that BTC Clothier Sdn Bhd, which owns the BritishIndia brand, was to sign the letter of offer for retail space on level two of the mall, otherwise their existing premises would be hoarded up.
He said this during cross-examination by the plaintiff's lawyer Gideon Tan.
Tan: Did you receive rental for July 2015?
Brien: Yes.
Tan: Even though you received rental, the position taken by Suria KLCC changed on July 3, where my client was informed that the hoarding would be installed on July 7 unless BritishIndia signed the offer to move to level two? Do you agree this is the position taken by Suria KLCC?
Brien: Our position was to hoard the premises, yes.
Tan: At this juncture, the details requested by my client to be able to make the decision whether to move to level two were not provided?
Brien: Disagree.
The chief disagreed that Suria KLCC did not have any specific plans for level two of the mall
He also disagreed with the suggestion that the retailer's lease was not renewed because the mall management thought that BritishIndia was not good enough to be located at the mall's first level, which was being positioned to feature luxury international brands.
BTC Clothier sued Suria KLCC in July 2014 on grounds it had wrongfully terminated its lease via an email dated July 4, 2014.
In its statement of claim, the plaintiff alleged that the defendant had threatened to close the BritishIndia premises on July 7, 2014 if the plaintiff refused to accept a letter of offer for a unit on level two of the mall.
During re-examination by the defendant's counsel, Tan Sri Cecil Abraham, Brien told the court that the prerogative on the retail mix of the mall lied solely with Suria KLCC.
He said in effect, the plaintiff's tenancy agreement had expired on June 30, 2014.
Cecil: Was the plaintiff aware when their tenancy was expiring?
Brien: Absolutely.
Brien also told the court that at the expiration of the tenancy, the plaintiff was supposed to vacate the premises and hand it over to Suria KLCC, but BritishIndia refused to do so.
Brien said the plaintiff had requested for a tenancy renewal but they had been informed since 2013 by the mall operator that the tenancy would not be renewed upon expiry in June 2014.
According to Brien, the plaintiff then requested for other leasing options, and were told of options on levels two and three of the mall.
The defendant's counsel closed their case on Monday and judge Datuk Nor Bee Ariffin fixed January 8 for all written submissions to be filed. — The Malaysian Insider