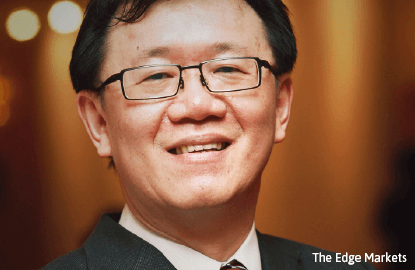 This article first appeared in The Edge Financial Daily, on December 23, 2015.
KUALA LUMPUR: Despite China's economic slowdown and the yuan's weakness, investors may see a second wave of Chinese investment flowing into Malaysia,focusing on infrastructure, energy and advanced manufacturing.
The establishment of the Asian Infrastructure Investment Bank, "One Belt, One Road" strategy focusing on infrastructure and interconnectivity, as well as China's trillion US dollar foreign-exchange reserves are expected to lead to Chinese companies investing more in Asia, including Malaysia.
"China is a global investor and will put money in countries that fit into its investment position, and Malaysia fits into the Silk Road Economic Belt," independent economist Lee Heng Guie said, adding that China's position as Malaysia's second-largest trading partner and third-largest foreign investor bears testimony to China investing more in Malaysia.
Based on Malaysian Investment Development Authority data, China's approved manufacturing projects in Malaysia jumped from a cumulative capital investment of RM1 billion in 1990 to 2000 to RM2.6 billion in 2001 to 2007, representing an increase of 77.6% per annum (pa). The approved investment rose further by 16.7% pa to RM11.8 billion in 2008 to 2014. In the first nine months of 2015, China's total approved manufacturing investment amounted to RM1.2 billion.
The share of China's approved manufacturing projects to total foreign approvals in Malaysia also rose from a mere 0.2% in 2000 to 12% in 2014, while that of total approved investment (both domestic and foreign investors) also saw a steady rise to 6.6% in 2014 from 0.1% in 2000.
Lee believes that the second wave of Chinese investment will be bigger and targeted in terms of project scale and capital intensity.
"This is also an expectation, given China's potential interest to take part in Malaysia's major infrastructure and economic development projects in public transportation," Lee, former chief economist of CIMB Research, told The Edge Financial Daily.
China's investment flows have in recent years moved into infrastructure, real estate, oil and gas, energy-related, financial service, high-technology, capital-intensive and consumption-oriented sectors, according to Lee. For instance, the Gemas to Johor Baru electrified double-tracking project is expected to be awarded to China Railway Construction Corp Ltd, and 1Malaysia Development Bhd agreed to sell its power assets under Edra Global Energy Bhd to China General Nuclear Power Corp for RM9.83 billion.
Interestingly, China and Japan have expressed keen interest to participate in the high speed rail project between Malaysia and Singapore.
Lee said Southeast Asia's infrastructure remains underdeveloped, and expects Malaysia's planned nuclear power plant to be China's next potential "investment" here. The project is estimated to cost RM23.1 billion for a capacity of 2,000mw.
Lee also noted that China's manufacturing investment had diversified and become more broad-based. From concentrating in resource- or commodity-based industries such as rubber products and food manufacturing in the 1990s, China now invests in chemicals and chemical products, machinery and equipment, plastic products, basic metal products, electronics and electrical products, as well as non-metallic mineral products.
Besides, Lee highlighted, China is no longer an outcast in the global financial world given its large stock of foreign reserves of US$3.52 trillion (RM15.17 trillion) as at end-October. 
Last month, the International Monetary Fund announced the inclusion of the yuan as one of its special drawing rights (SDR) currencies.
Also last month, China said it would grant a 50 billion yuan (RM33.19 billion) quota to Malaysia under the Renminbi Qualified Foreign Institutional Investor programme, invest more in Malaysian treasury bonds, and issue yuan-denominated bonds in Malaysia.
Although yuan-denominated trade settlement in the Asia-Pacific region has increased to 21% now from 7% in 2012, yuan-denominated trades in Malaysia only accounted for 2.3% of total trade. Lee attributed the current low usage of yuan-denominated trades in Malaysia to the preference of multinational corporations operating here for the US dollar and other major foreign currencies for trade settlement, mainly for electronics and electrical products.
In contrast, home-grown companies and exporters in the agricultural and resource-based industries have increased the usage of yuan in trades between China and Malaysia.
However, Lee foresees an increasing trend of the usage of yuan for payment in Malaysia given its inclusion in the SDR basket, which is a game changer to enhance the yuan's status as a global reserve currency.
"China hopes this inclusion will increase the yuan's desirability as a reserve currency for investors and undermine the supremacy of the [US] dollar as a global reserve currency. As long as investors get more comfortable with the stability of the yuan as a store of value, it will rise in prominence as the main currency for payment in trade and investment between China and the rest of the world." he said.
Besides, he also sees the renewal of the currency swap arrangement between China and Malaysia as reinforcing the ongoing commitment by both central banks in promoting the use of local currencies for payment settlement. China and Malaysia have renewed the currency swap arrangement of 80 billion yuan for RM90 billion for a further three years, starting April this year.