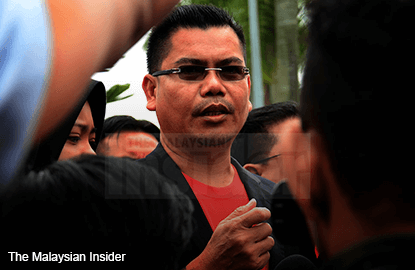 (Sept 25): "Red shirt" rally leader and Umno man Datuk Jamal Md Yunos is upset at negative news reports over another rally planned at Petaling Street in the capital tomorrow, and said he never meant to threaten traders or the public at the popular shopping strip.
He also denied calling for a riot as well as being involved in the rally, saying he only wanted to raise concerns about the lack of enforcement against traders there by the Ministry of Domestic Trade, Cooperatives and Consumerism (KPDNKK).
"I wish to clarify that my statement was not intended to issue threats or instil fear in the public, as has been sensationalised in the press, especially in alternative media.
"I was just expressing my disappointment in the event that the ministry does not act on the demands made by the 'red shirt' rally groups that congregated in Petaling Street on September 16," Jamal, who is also Sungai Besar Umno division chief, said in a statement today.
Jamal said his press conference on Wednesday at the Ampang Jaya police station had been sensationalised by the media.
"I am a little disappointed with the reports and statements made by the media, especially the alternative media with regards to my statement at the Ampang Jaya police headquarters on Wednesday.
"The purpose for the press conference was to explain and deny the allegations thrown against me and to tell the public that I would take stern action including through legal means against those defaming me.
"The statements that has been sensationalised by the media does not properly reflect what I had tried to explain on the possibility of holding another rally on September 26.
"They only published certain parts and this can cause confusion among the readers and can be misinterpreted by the public," he added.
Jamal was reported saying that he would bring more protestors to Petaling Street if the authorities fail to act against traders there selling fake goods.
He said he had met with the head of enforcement from KPDNKK over his request for action and wanted the ministry to act by Friday.
Jamal said failure to act would see protesters descend upon the area, where businesses are largely Chinese-owned.
"If (the ministry) does not act by Friday, if any chaos happens there, I will not be responsible. Those who go there will be as many as 5,000 people.
"I hope retailers associations and the Petaling Street traders will give their full cooperation.
"We don't want another 916 incident to happen again," he had said in reference to the September 16 Himpunan Rakyat Bersatu gathering in Kuala Lumpur, which saw red-shirted protesters rallying to defend Malay dignity.
Electoral reform group Bersih 2.0 today said Jamal and the red shirts had the right to protest but added that the police should nab them if they had intent to use violence in their gathering. – The Malaysian Insider