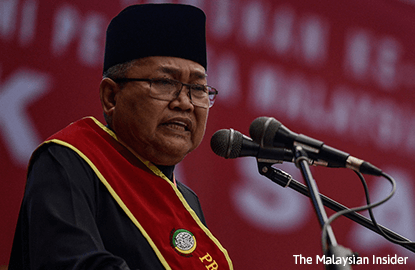 This article first appeared in The Edge Financial Daily, on December 21, 2015.
KUALA LUMPUR: Perkasa might back PAS in the 14th general election if the Islamist party shows it could become progressive, the president of the Malay rights group Datuk Ibrahim Ali said yesterday.
Perkasa supported Umno in the 13th general election in 2013 but felt the lead ruling Malay party was no longer striving for improvement, he said yesterday in his policy speech at the group's general assembly in Kuala Lumpur.
He said if PAS could show itself to be more progressive and able to care for bread and butter issues affecting Malays, Perkasa would throw its support behind the Islamist party.
"As for Umno, we give them until 2017 and then we will see, since both these parties represent the Malays and Islam," Ibrahim said.
The next general election is due in 2018.
"Perkasa will not back any party on the basis of emotions or blind loyalty.
"As such, Perkasa's stand for the next general election will be based on two choices, between Umno and PAS, which has severed its ties with DAP," the former Pasir Mas member of parliament said.
PAS and its one-time ally in the opposition, DAP, have cut ties after disagreeing over various issues, including the Islamist party's push to implement hudud or the Islamic penal code.
PAS is now alone on the opposition bench after refusing to join the new pact, Pakatan Harapan, and has been receiving and responding with an open stance to Umno's overtures to collaborate with the ruling Malay party.
Ibrahim himself has supported both PAS and Umno at different times.
He won the Pasir Mas constituency on a PAS ticket in 2008, but ran again and lost the seat in 2013 as an Umno-friendly independent candidate. — The Malaysian Insider