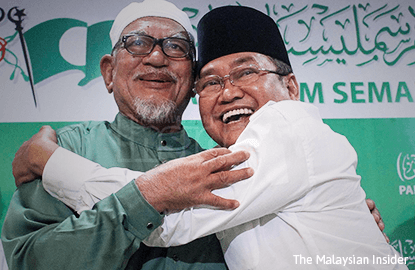 This article first appeared in The Edge Financial Daily, on October 16, 2015.
KUALA LUMPUR: PAS would be better off cooperating with Umno instead of Perkasa if it wants to improve its chances of winning seats in the next general election, said independent pollster Ibrahim Suffian.
He warned that the informal alliance announced yesterday between PAS and the Malay right-wing group could complicate things between the Islamist party and its former partners in the opposition.
"In order to improve its position, PAS really should move closer and establish a formal cooperation with Umno so that it can improve its electoral chances in GE14," Ibrahim told The Malaysian Insider.
"It is not likely that PAS will do well outside [of] Kelantan and Terengganu in a three-cornered fight with Umno and the rest of the opposition."
On Tuesday, PAS, which is not part of the new opposition pact Pakatan Harapan, announced its cooperation with Perkasa on issues related to Islamic and Malay interests.
This included the edict by the Malay rulers that investigations into 1Malaysia Development Bhd (1MDB) be resolved quickly, and a call to release 1MDB critics Datuk Seri Khairuddin Abu Hassan and his lawyer Matthias Chang. 
Both also wanted the government to be transparent over the Trans-Pacific Partnership agreement.
PAS quickly clarified that its cooperation on these three areas with Perkasa, which made incendiary statements about race and religion in the past, was not a "formal" collaboration.
But Ibrahim, who heads the Merdeka Center polling firm, said PAS was likely "taking advantage of Perkasa's disapproval of Najib and some of his policies".
Perkasa, whose patron is Tun Dr Mahathir Mohamad, a chief critic of the current administration, has also voiced criticism against Prime Minister Datuk Seri Najib Razak.
Ibrahim dismissed the notion that PAS was only cooperating with Perkasa to spite its former partners DAP and PKR, now part of Pakatan Harapan, which includes Parti Amanah Negara (Amanah), the PAS offshoot formed by its progressive leaders.
PAS has vowed not to work with DAP again after their fallout, and has labelled Amanah leaders as "traitors".
Some analysts have previously said PAS would likely face difficulties getting support in the next polls, especially among urban voters, without the help of DAP and PKR.
Others said a political coalition without PAS would make it difficult for DAP and PKR to secure the Malay-Muslim vote.
A PAS-Perkasa alliance, however, is unlikely to benefit PAS in terms of winning seats, said Ibrahim.
This is in addition to complicating things between the Islamist party and other opposition parties like PKR, Amanah and DAP.
"I don't think this move will yield much in the way of seats for PAS. Umno is already pretty weak right now and it's in power, so I am not sure what PAS can offer to the fans of Perkasa other than what Umno can.
"It also makes it difficult for PAS to work with the rest of the opposition. This move will also complicate PAS in states like Selangor where they won seats with the sizeable support of non-Malays," the Merdeka Center chief said.
Observers also see the cooperation between PAS and Perkasa as a move by the former to strengthen its support base, as its refusal to join Pakatan Harapan would have cost the urban votes.
"PAS just wants to broaden its support now that they have lost some urban support with Amanah taking over the PAS urban vote," said Professor James Chin, who heads the Asia Institute at the University of Tasmania.
Chin added that Perkasa wanted to pull PAS towards Umno, noting that PAS president Datuk Seri Abdul Hadi Awang had also made open overtures towards the ruling party.
"Perkasa wants to pull PAS closer to Umno so it is part of a larger game. Pakatan should not worry since everybody knows Hadi is leaning towards Umno," he said.
However, political analyst Khoo Kay Peng said the new PAS-Perkasa alliance did not seem to have anything to do with Pakatan Harapan or Umno.
"I don't think Pakatan should be worried at all. I don't think it will have an impact at all." — The Malaysian Insider