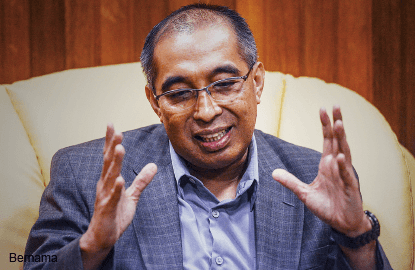 This article first appeared in The Edge Financial Daily, on December 14, 2015.
KUALA LUMPUR: Datuk Seri Najib Razak's offer to reconcile with Tan Sri Muhyiddin Yassin shows that the Umno president is ready to forgive for the good of the party, says Communications and Multimedia Minister Datuk Seri Salleh Said Keruak.
Salleh, who is Umno Sabah liaison deputy chairman, said despite suffering harsh words from critics, Najib was magnanimous enough to extend a "hand in friendship" to his estranged deputy instead of turning his back and causing embarrassment.
"Although Najib has shown that he can fight if needed, he has also shown that he would prefer to not fight if that is going to hurt the party.
"Najib is prepared to forgive and forget for the good of the party. But it has to be two ways because it takes two hands to clap," Salleh wrote in his blog.
Salleh said the prime minister should not be seen as weak just because he sought peace instead of war.
"In fact, it takes a strong person to forgive those who trespassed against you.
"The problem is people sometimes make the mistake of thinking that when a person is diplomatic and prefers the peaceful alternative to solving differences, that means that person lacks guts. They fail to see the positive side of things, which is that person may be a gentleman."
After Najib concluded his policy speech at the Umno general assembly on Saturday, he stepped down from the podium and shook hands with Muhyiddin before returning to his seat.
The gesture sparked speculation that the two leaders would reconcile their differences.
Delegates at the assembly had high hopes for this, with some even calling them to hug each other when the assembly ended.
However, almost immediately after accepting Najib's handshake, Muhyiddin told the media he still wanted to know what steps Najib would take to resolve the problems he raised concerning the debts of 1Malaysia Development Bhd (1MDB) state investment fund and the RM2.6 billion in the prime minister's personal bank accounts.
Muhyiddin was dropped from the Cabinet in July after vocally criticising Najib's handling of 1MDB. — The Malaysian Insider