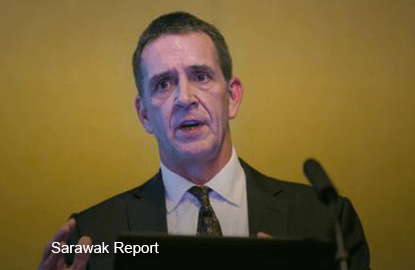 (July 14): An international cyber security firm which claimed that leaked documents on 1Malaysia Development Berhad's (1MDB) 2009 business deal with Petrosaudi International Ltd were doctored, nearly went bust last year and had to be rescued by "Middle Eatern money", Sarawak Report has claimed today.
The whistleblower site said the firm, Protection Group International (PGI), which was hired by Petrosaudi to prove that the documents were tampered with, was only set up in 2012 by two former marines.
Sarawak Report stated that former employees of the firm had claimed that the company was saved by "Middle Eastern money" before it went under, and that the fact was backed up by company records.
"It is a claim backed up by company records which show an Omani businessman, Mohamed Al Bawani bought a majority share in the company last autumn and most of the directors were replaced in the shake up," the site said.
The site slammed PGI managing director Brian Lord (pic, right), who joined the company just over a year ago, who had also claimed that the information in Sarawak Report was "unreliable".
"Lord himself only joined the company just over a year ago. Before that, Mr Lord spent his entire working life travelling from the bottom up at the UK listening service GCHQ, which has nothing to do with servicing private companies on computer protection nor analysing news journalism.
"Mr Lord's was a typical civil service grind by the look of his CV – 23 years of step by step promotions, before finally getting one of the deputy jobs that abound at such establishments," the site said.
The report claimed that given PGI's history, the company's image as an established and successful business did not match the reality "of a struggling firm tying to make a breakthrough".
"It is therefore fair to assume that PetroSaudi are very important paying clients indeed for PGI, who are struggling to turn a profit on a company that boasts a share capital of a mere £174.92," it said.
"It explains why Brian Lord has put his neck on the line for PetroSaudi.Already, his comments are being exposed as hogwash and the reputation of PGI is being exposed with them. The money from PetroSaudi had better have been worth it."
Last month, pro-government local daily, the New Straits Times (NST) reported that the data about the Petrosaudi-1MDB deal was stolen from PetroSaudi and subsequently edited before it was published on the Internet.
Quoting a source, NST said PGI's investigations showed that former PetroSaudi employee Xavier Justo was the source of the theft, and that the stolen data were "incomplete" and "underwent an editing process" before they appeared on Sarawak Report.
Justo, a Swiss national and former employee of PetroSaudi, was arrested at a house on Koh Samui, Thailand, last month with computers, hard drives and other data storage devices.
Thai police said Justo was paid an equivalent of 140 million baht (RM15 million) to leave PetroSaudi after he was found to have "behaved against the company's rules and regulations".
Citing the leaked documents, Sarawak Report had in February alleged that businessman Low Taek Jho, or Jho Low, engineered PetroSaudi's US$2.5 billion joint venture with 1MDB in 2009 in order to siphon off US$700 million from the deal.
It also said the US$1.5 billion in assets PetroSaudi had injected into the joint venture did not actually belong to the firm.
The joint venture deal ended 6 months later, with 1MDB's investment of US$1 billion converted into Mubaraha notes, which 1MDB president and group executive director Arul Kanda Kandasamy said was paid back in full.
1MDB has also refuted claims of wrongdoing, stressing that the joint venture resulted in a profit of US$488 million. – The Malaysian Insider