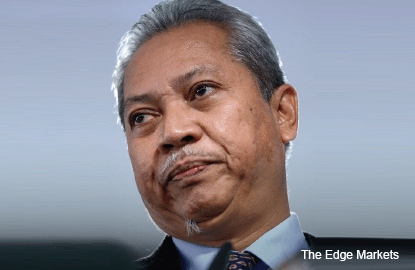 KUALA LUMPUR: Majlis Amanah Rakyat (Mara) has decided to discontinue investments in real estate overseas, its former chairman Tan Sri Annuar Musa said yesterday, following the government agency's involvement in an alleged property scandal in Melbourne, Australia.
Annuar also said Mara was in the midst of selling off some of its properties to repay its loans.
"We have decided not to continue investing overseas.
"If we obtain a good offer for our assets, we are quite prepared to liquidate them," he told reporters at the Parliament Hari Raya open house yesterday.
Mara has a clutch of properties in Melbourne and allegedly overpaid for some in deals which have aroused suspicion of graft.
Annuar previously said Mara was willing to sell its Australian properties if the right offer came along. As for its London property called Ashley House, it had earlier decided to dispose of it with an expected 20% in profit from the sale.
But as to its four properties in Australia, Annuar, whose two-term tenure as Mara chairman ended last Friday, said the agency had decided to only sell those once the Malaysian Anti-Corruption Commission (MACC) completed its probe into the graft allegations.
Meanwhile, Annuar confirmed that his contract as chairman of Mara has yet to be renewed.
"Yes, my contract ended on July 17. [According to] my contract, I was appointed on July 17, 2013," he said.
He said he has yet to receive any offer letter about the renewal of his contract, but denied this was due to the property scandal that came to light last month.
Mara came into the spotlight after Australian daily The Age revealed that its subsidiary — Mara Inc — had overpaid for an apartment block known as Dudley International House in Melbourne.
Top government officials were allegedly involved in overpaying for the property, with the difference pocketed as bribes back home.
Mara Inc is alleged to have overpaid by RM129 million for its four properties in Melbourne, according to PKR lawmaker Rafizi Ramli, citing figures by property valuers.
In addition to Dudley International House, its other properties there are 746 Swanston Street, 21 Queen Street and 333 Exhibition Street.
Mara had said then that its purchases had been good investments, claiming they could yield a profit of at least RM45 million if the properties were sold.
Rafizi then challenged Mara to dispose of its properties to prove its claim.
The MACC is investigating claims of graft. Annuar has said previously that Mara itself had begun probing the Dudley purchase two months before the news about the overpriced purchase was reported in the Australian press. – The Malaysian Insider
This article first appeared in The Edge Financial Daily, on July 23, 2015.