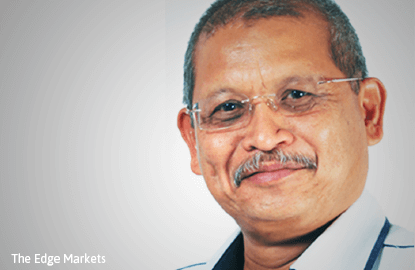 This article first appeared in The Edge Financial Daily, on November 3, 2015.
KUALA LUMPUR: Despite the increase of 4 sen per km in fares for the KTM Komuter, Keretapi Tanah Melayu Bhd (KTMB) will not profit because the company's operational costs have increased over the years, its president Lt Col (R) Sarbini Tijan (pic) said about the first increase in KTM fares in 12 years.
The increase in KTM Komuter fares from Dec 2 will be up to a maximum of RM7.10.
"Based on our cost, every passenger kilometre costs us 20 sen and now the government only approves a 15 sen increase," he told a press conference on Sunday.
"We always operate on a loss because government subsidies only create costs."
However, he said it is part of KTMB's social obligation to the people and it would need to apply for Putrajaya's help to cover the remaining 5 sen per km. Previously, KTMB charged 11 sen per km.
Sarbini added that the new fares would cover operational and maintenance cost, such as purchase of spare parts that had become increasingly expensive due to the drop in the ringgit.
"KTMB has also been subjected to the commercial rates of the electricity tariff over the years."
The new fares however will only cover the Klang Valley routes, which are from Tanjung Malim to Sungai Gadut and Batu Caves to Port Klang.
The fares for KTM Komuter services for the southern sector, from Sungai Gadut to Tampin, and northern sector, from Kamunting to Gurun, remain unchanged.
Under the new fares, students are eligible to receive concession fares at a 50% discount. Senior citizens, disabled people and children aged two to 12 years will also continue to enjoy a similar 50% discount, while children under two get to travel free of charge. — The Malaysian Insider