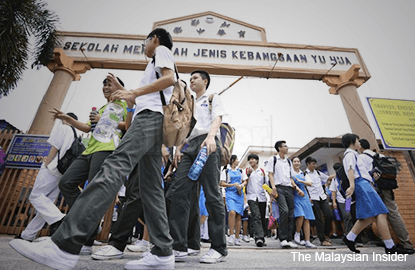 KUALA LUMPUR: Contrary to what is being touted by some political parties, vernacular schools are not protected by the Federal Constitution, said an eminent law professor.
Datuk Dr Shad Saleem Faruqi from Universiti Teknologi Mara said while the Constitution permits the learning of other languages, it does not say that the medium of instruction must also be in vernacular languages. "Contrary to the Constitution, vernacular schools have become entrenched. "They are not protected by the Constitution, but many political parties, to gain popularity, are saying this is in the Constitution," he said on the sidelines of a national unity conference on Wednesday.
His statement comes amid calls to abolish Chinese schools made at the "red shirt" rally in Kuala Lumpur on Wednesday. It was reported that a banner with the words "Hapuskan SJKC" (abolish national-type Chinese schools) was among those held up at the rally. MCA Youth has lodged a police report over the banner which it claimed was seditious.
Shad said, "If people don't learn together, they won't be able to live together," he said. He said vernacular languages should instead be promoted in national schools, and urged national schools to allow prayers of all faiths. "I also don't see why national schools cannot have prayers other than reading the Quran. Even in Islam, it says 'to you, your religion, to me, mine', so that is not a problem," he said. — The Malaysian Insider
This article first appeared in digitaledge Daily, on September 18, 2015.