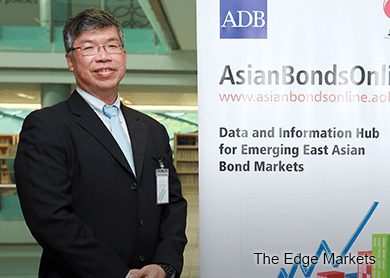 KUALA LUMPUR: Bond financing is the way forward for the growing renewable energy (RE) sector, the Asian Development Bank (ADB) said.
"Bond markets are more suitable for funding long-term RE projects at a predictable cost," senior economist in the economic research and regional cooperation department Dr Thiam Hee Ng told reporters after the launch of the Asian Bond Monitor June 2015 quarterly report yesterday.
He cited multilateral development banks such as ADB, the government and the private sector as the three financing options.
Thiam noted that high start-up costs and long-term returns associated with the projects often make commercial banks and private lenders wary of investing in the sector.
"As large investors such as pension and sovereign wealth funds have traditionally allocated a big proportion of their portfolio to bonds, a renewable energy project that is packaged into a bond will have great potential," he said.
Green bonds, which are used to secure funds for environmentally beneficial projects, have been growing in popularity among socially-conscious investors, Thiam said.
The global green bond market surged to US$30.5 billion (RM114.4 billion) by December 2014, more than double the amount in 2013 although Asia only issues 2.1% of global green bonds.
However, the ADB raised US$500 million from its green bond issue in March this year and Khazanah Nasional Bhd is set to release Malaysia's first green bonds later this year, which are expected to complement the growing market for sukuk bonds.
Dr Yeah Kim Leng, Dean of the School of Business at the Malaysia University of Science and Technology, said Malaysia's well-developed bond market is prepared to meet such needs.
"The conditions of a savings surplus, institutional and regulatory frameworks, and the interest of long-term investors have been met.
"The AAA/stable credit rating of Malaysia is also important to secure investors," Yeah said. 
This article first appeared in The Edge Financial Daily, on June 24, 2015.