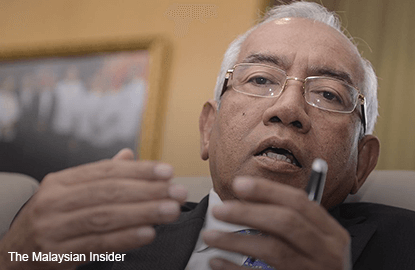 KUALA LUMPUR: The decision to postpone making English a compulsory pass subject in the Sijil Pelajaran Malaysia examination was fair, especially to students and teachers in rural areas, said the new education minister in response to critics, who called the move arbitrary and proof that education was often victimised by politics.
Datuk Mahdzir Khalid said students in rural areas had yet to master the language or even reach a satisfactory level of proficiency, and admitted that the country still lacked a sufficient number of English teachers.
"We have to postpone because it is unfair for students in the rural and interior areas. For example, in Sabah, some take three hours to reach the school via boat. And then, they have to ride on a truck to get to school," he told The Malaysian Insider in an exclusive interview.
Mahdzir said students in urban areas were more prepared and were able to master the English language more quickly.
"Schools in towns and cities are more prepared. There is no problem [for them] if we implement it. We have to give more time to teachers to be better prepared. When it is time, we will implement it and there will be no further delays.
"The teachers' training institutions have to be on top of things and ensure that there are enough English teachers. In fact, the teachers have to be determined in their preparation," said Mahdzir, who was appointed to the Cabinet on July 28.
On the postponement of science practical examinations for Physics, Chemistry, Biology and Additional Science, the minister said schools had issues with the equipment and laboratories.
"The proposal is good for students who can understand the process of learning better, but some schools don't even have laboratories. So how?" he said, adding that the decision to postpone was right so that schools could be prepared.
Parent groups were disappointed and expressed alarm over the postponement, saying it would harm education standards.
Parent Action Group for Education (Page) and the Association of Parent Groups in Reforming Education  were concerned that the decision was politically motivated at the expense of educational excellence.
"While we do understand the need for teachers, students and the relevant stakeholders to be prepared, we are concerned that the delay is again a subordination of educational excellence to political motivations," said Page chair Datin Noor Azimah Abdul Rahim. — The Malaysian Insider
This article first appeared in digitaledge Daily, on August 28, 2015.