This article first appeared in The Edge Financial Daily, on April 21, 2017.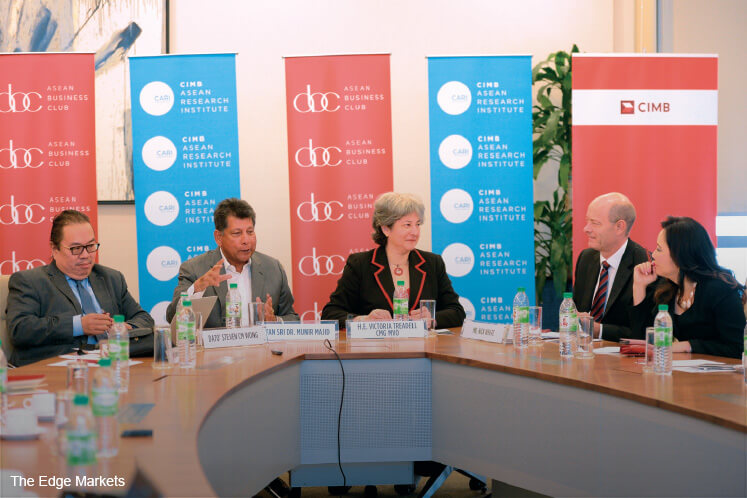 KUALA LUMPUR: The CIMB Asean Research Institute (Cari) has warned against concluding that the Brexit lesson for Asean is that the grouping should not be too aggressive in its integration process.
"Against what Asean has promised with the AEC (Asean Economic Community), its non-fulfilment would be a blow to businesses which would begin to have less faith in the economic and other integration processes," said Cari chairman Tan Sri Dr Munir Majid in a statement yesterday.
Munir stressed the need for Asean's plan of action, particularly assistance to micro, small and medium enterprises (MSMEs), to be carried out. "If MSMEs fail, the Asean economy will fail, and its integration process will be rolled back as individual economies seek to protect jobs," he said.
Munir chaired a roundtable entitled "Lessons learnt from Brexit: Risks and opportunities for Asean?" organised by Cari and the Asean Business Club yesterday. The speakers were British High Commissioner Victoria Treadell, Institute of Strategic and International Studies deputy chief executive Datuk Steven C M Wong and Nick White, a partner at international law firm Trowers & Hamlins, Kuala Lumpur.
The roundtable concluded that Asean should remain focused on its economic agenda and not allow its vision of integration to be clouded by political issues due to rising global protectionism.
After May officially invoked Article 50 of the Lisbon Treaty on March 29, the UK is required to enact its own legislation and trade policies for the first time in 40 years. They must be put into place by 2019 when Britain officially leaves the European Union (EU).
White advised businesses to keep track of red-headline issues during the UK's Brexit negotiation with the EU, and not to "jump at every twist" in the negotiations.
"Although [they] may be not many in numbers, Asean businesses that 'passport' from the UK into Europe, and vice versa, will need to assess the new position carefully. Businesses that adhere to standards in any industry will have to observe any future variations in those standards between the UK and the EU," said White.
Wong called for pragmatism, saying that Brexit poses both challenges and opportunities, and  that "the future is yet to be cast in stone".
Treadell reiterated the UK's commitment to free trade and establishing robust economic ties with not only EU, but also with other regions, such as Asean.
"Britain sees the Asean Economic Community as an important destination for its goods and services and a source of investment," she said.
"Half of Asean investment in Europe goes to the UK. Measuring trade and investment with Asean is of economic interest to both the UK and Asean," said Treadell.
Between 2008 and 2013, 50% of Asean's investment in Europe went to the UK, with the figure growing by 150% to £28 billion (RM158.04 billion).