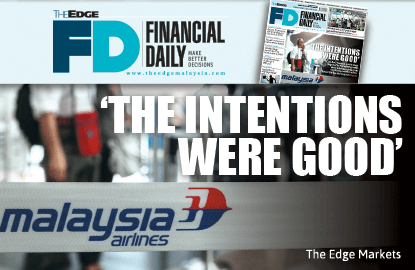 This article first appeared in The Edge Financial Daily, on January 13, 2016.
KUALA LUMPUR: Malaysia Airlines Bhd has come out to say that its decision to notify its customers of a baggage restriction a few hours prior to checking in their baggage on flights to Paris and Amsterdam was done out of "good intentions".
It was also done in compliance with a zero-tolerance policy against overflying conflict zones adopted following the deadly flight MH17 crash in Ukraine that was shot down on July 17, 2014, said its chief executive officer Christoph Mueller.
"We did not voluntarily make [ourselves] the clown of the city. We did not anticipate that the [good] intentions that we [had] wanted this communication [to be] to end up where it ended. We [had merely] wanted to inform our customers about the special situation," he told The Edge Financial Daily yesterday.
Malaysia Airlines, which has been hogging the media limelight for the wrong reasons after the tragic incidents of MH370 and MH17 in 2014, once again received bad press due to its recent move to limit check-in baggage for flights to Paris and Amsterdam, citing strong headwinds, a move that left many passengers fuming.
The national airline had advised its passengers flying to the two cities to only carry up to 7kg of check-in luggage for two days — Jan 5 and 6 — from the original three days, citing "safety" and "unseasonably strong headwinds" as reasons. It had earlier planned to impose the same temporary restriction for flights to London, but cancelled it at the eleventh hour.
"It (move to notify its customers earlier) was done with very good intentions. We wanted to inform passengers not to put something they might need in their check-in luggage such as medication," said Mueller.
He added that another reason for the restriction on check-in baggage allowance was due to its zero-tolerance policy with regard to overflying over a conflict zone.
"We are one of the few carriers in the world that do not compromise on this matter. We do not overfly Afghanistan, Ukraine, Syria or any areas that have the mildest warnings [for commercial aircraft] and that is the reason why all our flights to Europe are now flying via Saudi Arabia, far into Egypt, and going up across western Nile River," he said.
Mueller noted that the rerouting has prolonged the airline's flight to Europe by one and a half hours, but stressed that this is merely for safety reason.
"The [recent] decision also coincided with the storm in Europe, the strongest in decades. The [intense headwinds caused the] speed of our aircraft to slow down by one third, in addition to the additional flight time due to the rerouting.
"So it was for two days that we were limited in our payload. We basically wanted to ask our customers [flying to Paris and Amsterdam] for their understanding because for the two days, they could only travel with [hand-carry] luggage," said Mueller.
"When the storm was over, the whole thing was normal again. And that was the communication intended, but it came out on the other end as a media disaster I admit," he added.
Early last month, it was reported that Storm Desmond had caused heavy rain and floods in the UK, with streets submerged in northwest England and 60,000 homes left without power.
Just as it was recovering by Christmas holidays, the country was once again battered by high winds and heavy rains, causing much disruption to transportation and leaving thousands of people without electricity.
Mueller said other airlines were also affected by the storm and had taken a longer route for their flights to Europe. However, they were fortunate not to impose any baggage restriction on their passengers as they operate the new Boeing 787 Dreamliner, which have a longer range capability than Malaysia Airlines' ageing Boeing 777-200ERs that will be phased out by the end of this month.
Malaysia Airlines mounts its 777s on flights between Kuala Lumpur and Paris, and Amsterdam, while using its Airbus A380 fleet on the Kuala Lumpur-London route.
"So, the A380 [flights] were not affected. It was really the type of aircraft, together with the overfly [policy] due to the storm in Europe. And again, two days were the whole story," said Mueller.
Mueller said the payload restrictions also happen frequently among airlines in North Atlantic, especially during winter.
"However, what the American carriers do is they offload some of their passengers, meaning they carry less passengers [during those affected periods]. But we didn't because we thought, "This being the Christmas vacation, let's just take the people [first] and deliver their bags 24 hours later'," he added.
"Our planes were fully booked because it was the Christmas travel time [and] there are not many days in a year where we see 100% load factor, so we decided to leave the cargo behind. The storm was also unprecedented," he said.
Asked if Malaysia Airlines will implement the same modus operandi should a storm occur on its Europe flights again, Mueller said the management will have to decide on a case-by-case basis, adding that "every situation and every booking day are slightly different".
One thing's certain, he said Malaysia Airlines will now most likely use short-messaging services to communicate with its customer on a similar situation rather than issue a press release.