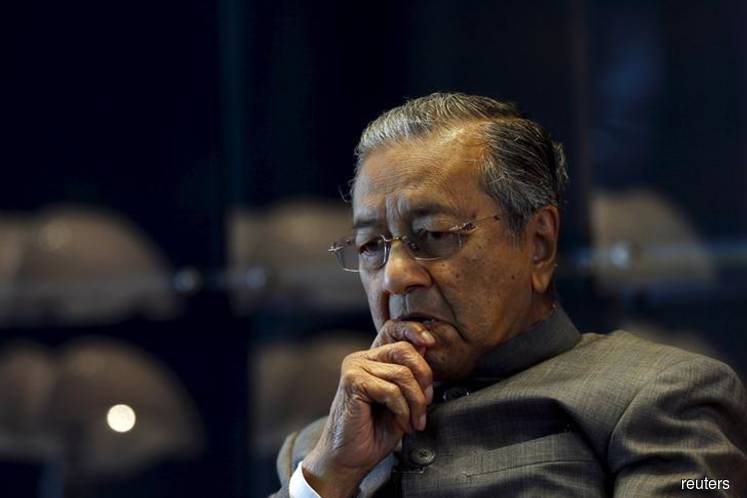 PUTRAJAYA (Sept 18): Former Prime Minister Tun Dr Mahathir Mohamad said that he was only aware RM5.7 billion worth of foreign exchange (forex) losses suffered by Bank Negara Malaysia (BNM) in the early 1990s and not RM30 billion.
"If I had known the losses was RM30 billion, I would not have said `sometimes we lose, sometimes we win' or `sometimes we make profit and sometimes we make losses', which (then Finance Minister) Datuk Seri Anwar Ibrahim and (then deputy Auditor-General) Tan Sri Clifford Francis Herbert claimed I said when they met me late 1993. However, I don't remember saying this," he told the Royal Commission of Inquiry (RCI) into the 1990s forex scandal.
According to Mahathir, Anwar and Herbert testified during the RCI that he (Mahathir) had made such a statement when they brought the issue of losses to him in 1993.
Though he claimed not to remember making the statement, Mahathir did not deny it.
"For me, I do not think it strange to have said something like that because in the late 1980s, former BNM governor Tan Sri Jaffar Hussein informed me of that the central bank's forex trading was to balance its reserves and the nation's economy.
"What was meant then was there were profits from forex trading by BNM.
"Therefore, when they informed me of the losses in 1992, with the knowledge of profits in 1980s, I did not find it strange to have said so.
"However, if I had made that statement, I must have been convinced that the losses of RM30 billion was not communicated to me at that time. If it was RM30 billion, it is impossible for me to have said that," he added.
Mahathir said as the Prime Minister, he had no reason to suspect that BNM had acted against the powers given to it under the law and he had no personal knowledge of the losses or profits in relation to the forex trading.
"I was also not aware that Jaffar decided to take part in active forex trading to balance out the currency volatility to safeguard the reserve and nation's economy following the negative impact of the Plaza Accord," he told the five-man panel.
On former Finance Minister II Tan Sri Nor Mohamed Yakcop's reappointment as BNM's adviser in 1998, Mahathir said he sought Nor's expertise to help Malaysia through the Asian Financial Crisis then.
"I needed financial and currency experts to help the country overcome the crisis then. I remembered seeing Mohamed Yakcop walking on the road once. Few weeks after that, I asked him to meet me in Buenos Aires (Argentina) to give me information on forex trading.
"I then appointed him in 1998 to be part of a small committee that would have daily morning briefings on the crisis. He helped to restore the economy and our ringgit which I believed enabled Malaysia to save us from billions in losses," he added.
Meanwhile, Mahathir said there ought to be an RCI into 1Malaysia Development Bhd (1MDB) where RM2.6 billion was allegedly banked into Prime Minister Datuk Seri Najib Razak's personal account.
"It has been 25 years since the forex losses occurred yet Najib via his `helpers' have succeeded in setting up the RCI in less than 25 days (on Feb 15, 2017) following former assistant BNM governor Datuk Abdul Murad Khalid's revelation to the media regarding the forex losses," he added.