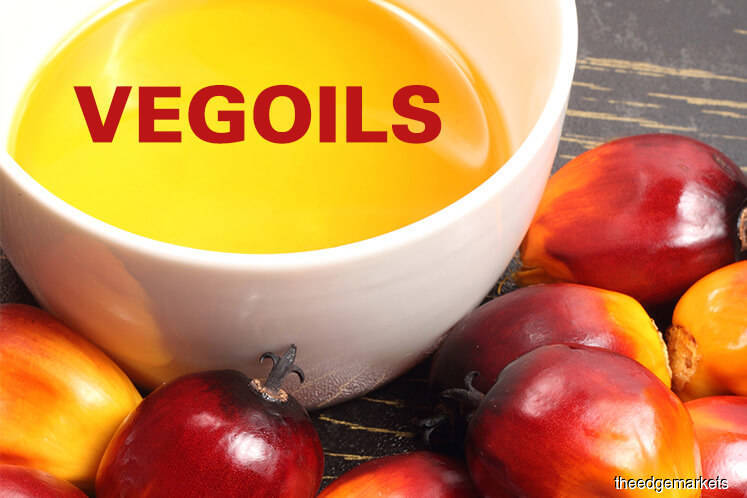 KUALA LUMPUR (Sept 12): Malaysian palm oil futures fell more than 1% in its fourth straight session of losses on Wednesday evening, tracking weakness in soyoil and bearish data for August released by the Malaysian Palm Oil Board (MPOB).
Palm oil stockpiles in August rose 12.4% from a month earlier to 2.49 million tonnes, while production gained 7.9% to 1.62 million tonnes, data released by the industry regulator during midday break showed. 
Exports fell 8.1% to 1.1 million tonnes, weaker than market expectations.
A Thomson Reuters poll had forecast August output to rise 9.9% to 1.65 million tonnes, raising inventory levels to a six-month top of 2.41 million tonnes.
The benchmark palm oil contract for November delivery on the Bursa Malaysia Derivatives Exchange was down 1.3% at 2,237 ringgit (US$540.08) a tonne at the close of trade, its sharpest daily decline in a month. 
Earlier in the session, it fell to 2,231 ringgit, its lowest levels since Aug 30. 
Trading volumes stood at 36,251 lots of 25 tonnes each at the close of trade. 
"The market fell on the MPOB data combined with lower CBOT," said a futures trader in Kuala Lumpur, referring to soyoil on the U.S. Chicago Board of Trade.
The Chicago September soybean oil contract declined 1.1% on Tuesday as export concerns, highlighted by a fresh cancellation of a deal for U.S. supplies, weighed on the market. It was trading flat at 0443 GMT.
Meanwhile, the January soybean oil contract on China's Dalian Commodity Exchange edged down 0.2%, while the Dalian January palm oil contract was 0.7% lower. 
Palm oil prices are impacted by movements of other edible oils, as they compete for a share in the global vegetable oils market.
Palm oil may fall to 2,245 ringgit per tonnem, as it has broken a support at 2,274 ringgit, said Wang Tao, a Reuters market analyst for commodities and energy technicals.
 Palm, soy and crude oil prices at 1100 GMT
 Contract          Month    Last  Change     Low    High  Volume
 MY PALM OIL       SEP8     2200  -18.00    2200    2200      81
 MY PALM OIL       OCT8     2221  -24.00    2215    2243    2867
 MY PALM OIL       NOV8     2239  -29.00    2231    2263   18475
 CHINA PALM OLEIN  JAN9     4882  -36.00    4876    4936  427224
 CHINA SOYOIL      JAN9     5892  -12.00    5882    5932  519184
 CBOT SOY OIL      SEP8    27.73   +0.00       0       0     200
 INDIA PALM OIL    SEP8   600.30   -5.60  600.10   606.5     704
 INDIA SOYOIL      SEP8    737.4   -5.50     737   742.3    5160
 NYMEX CRUDE       OCT8    69.81   +0.56   69.50   70.14  132562
 Palm oil prices in Malaysian ringgit per tonne
 CBOT soy oil in U.S. cents per pound
 Dalian soy oil and RBD palm olein in Chinese yuan per tonne
 India soy oil in Indian rupee per 10 kg
 Crude in U.S. dollars per barrel
(US$1 = 4.1420 ringgit)
(US$1 = 72.0300 Indian rupees)
(US$1 = 6.8660 Chinese yuan)