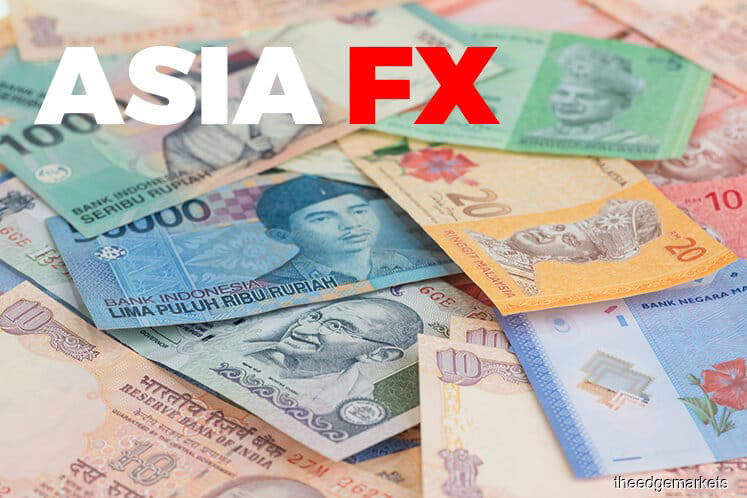 (Sept 12): The Indian rupee sank to yet another record low on Wednesday,  while most other Asian currencies traded cautiously in tight ranges against the backdrop of U.S.-China trade tensions.
The absence of new controversies in international trade since the start of the week had provided investors some hope, but it faded on Wednesday, amid verbal sparring between Washington and Beijing.
China told the World Trade Organisation (WTO) on Tuesday that it wanted US$7 billion a year in sanctions on the United States in retaliation for Washington's non-compliance, with a ruling in a dispute over U.S. dumping duties.
With U.S. President Donald Trump's threat to impose tariffs on more Chinese goods not materialising so far this week, risk sentiment in emerging markets is likely at a stasis point, OCBC Bank said in a note.
The dollar index, which measures the greenback against six major peers, dipped to 95.168.
Indonesia's rupiah, the region's second worst-performing currency this year, resumed trade after a public holiday and weakened 0.2% to 14,885 per dollar. 
Indonesia has been extremely susceptible to emerging market outflows, as fears of contagion from crises in Turkey and Argentina kept investors risk-averse. 
The Indonesian 10-year bond yield rose to its highest since early 2016 at 8.629%, as bond prices fell. 
OCBC expects Bank Indonesia, one of the most active central banks during the emerging market crisis, to hike rates again in September.  
Trading for the first time this week after public holidays, Malaysia's ringgit languished around late-2017 lows against the dollar. It was last at 4.147. 
The Chinese yuan eased slightly to 6.873 to the dollar.  
Indian rupee
The rupee reached a new low against the U.S. dollar on Wednesday, but held off the pivotal 73 level, with two traders spotting mild intervention by the central bank.
The currency pulled back from intraday lows, and was 0.1% weaker at 72.783.
A slew of data is expected later in the day, including inflation, which is expected to slip below the Reserve Bank of India's (RBI) medium-term target in August and would likely motivate the central bank to keep interest rates on hold, a Reuters poll showed.
"This arguably buys the RBI some breathing space. But this is hollow relief," said Mizuho Bank in a note, amid rising oil prices and higher food inflation. 
  
India's benchmark 10-year bond yield rose even higher on Wednesday to 8.231%, its highest since mid-November 2014. 
South Korean won 
The won was 0.3%  weaker at 1,128.1.
South Korea's unemployment rate hit an eight-year high in August, adding to economic policy frustrations and political challenges for President Moon Jae-in.
 
"The weakening labour environment is likely a reflection of the ongoing stagnation of its manufacturing output and weakening export environment, while job losses were widespread in the service sectors as industries adjust to the minimum wage increases," said OCBC Bank. 
    
 CURRENCIES VS U.S. DOLLAR
    
 Change on the day at 0520 GMT                          
 Currency                     Latest bid  Previous day  Pct Move
 Japan yen                    111.480     111.62        +0.13
 Sing dlr                     1.377       1.3750        -0.11
 Taiwan dlr                   30.816      30.814        -0.01
 Korean won                   1128.100    1125.3        -0.25
 Baht                         32.810      32.82         +0.03
 Peso                         53.977      53.94         -0.07
 Rupiah                       14885.000   14852         -0.22
 Rupee                        72.783      72.69         -0.13
 Ringgit                      4.147       4.1435        -0.08
 Yuan                         6.873       6.8719        -0.02
                                                        
 Change so far in 2018                                  
 Currency                     Latest bid  End 2017      Pct Move
 Japan yen                    111.480     112.67        +1.07
 Sing dlr                     1.377       1.3373        -2.85
 Taiwan dlr                   30.816      29.848        -3.14
 Korean won                   1128.100    1070.50       -5.11
 Baht                         32.810      32.58         -0.70
 Peso                         53.977      49.977        -7.41
 Rupiah                       14885.000   13565         -8.87
 Rupee                        72.783      63.87         -12.25
 Ringgit                      4.147       4.0440        -2.48
 Yuan                         6.873       6.5069        -5.33