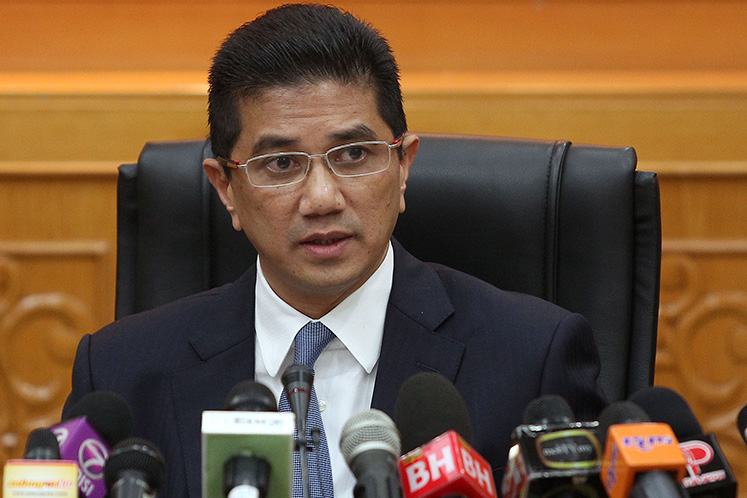 KUALA LUMPUR (Sept 7): It is too late for MCA to play the role to check-and-balance because they had the chance before when they were in the BN Government but failed to carry out their role, said Pakatan Harapan vice-president Datuk Seri Mohamed Azmin Ali.
Instead, Mohamed Azmin who is also Economic Affairs Minister, said MCA kept silent when former Prime Minister Datuk Seri Najib Tun Razak was connected to the 1Malaysia Development Berhad (1MDB) scandal.
"It is only now (MCA) wants to be the check-and-balance, no way, it's too late for MCA, we must reject MCA and BN in this by-election," he said to the audience at his talk titled 'Grand Finale' PH  here tonight on the eve of the Balakong by-election tomorrow.
Azmin who is also PKR deputy president said under the new Government which is transparent, foreign investors had shown interest to invest in the country.
"They see that there is hope to invest here because we assure them that the Government is more transparent and does not steal money from the people..the foreign investment will provide more job opportunities and generate the economy," he said.
Mohamed Azmin said the by-election for the Balakong State seat must be a platform for the people to send a clear message to MCA and Barisan Nasional (BN) that they are no longer relevant and accepted to represent the people.
Pakatan Harapan (PH) information chief Tony Pua said MCA and BN must be punished as it was because of the previous government that the country was now facing a huge debt.
"The nation would have been destroyed if PH did not succeed in toppling BN in the 14th general election," he said.
"But is the MCA repentant, is BN repentant, for their wrongdoings for so many years. Has the MCA apologised to the people?" he said.
Others who spoke at the gathering were Selangor ???????Menteri Besar Amirudin Shari, DAP secretary-general Lim Guan Eng who is also Finance Minister and DAP advisor Lim Kit Siang.
The by-election which is being held following the death of its state assembly Eddie Ng Tien Chie in a road accident on July 20, sees a straight fight between PH candidate Wong Siew Ki and MCA's Tan Chee Teong.