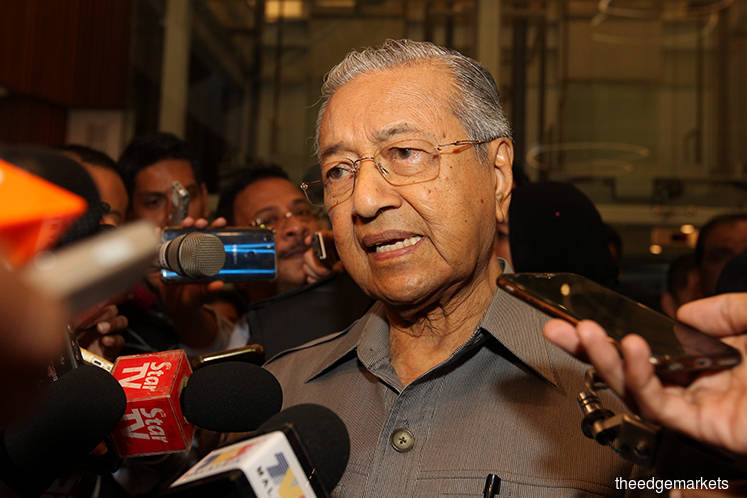 PETALING JAYA (Sept 7): Prime Minister Tun Dr Mahathir Mohamad said he is not satisfied with the achievement and performance of Cabinet ministers since they were appointed to their respective portfolios in the new government.
"I'm not satisfied. If possible, I want (something that has been directed) to be settled yesterday, not today," said the Pakatan Harapan chairman after chairing the Pakatan Harapan Presidential Council meeting at Menara Yayasan Selangor here today.
Also present were PKR president Datuk Seri Dr Wan Azizah Wan Ismail, AMANAH president Mohamad Sabu, DAP secretary-general Lim Guan Eng and Parti Pribumi Bersatu Malaysia (BERSATU) Youth chief Syed Saddiq Abdul Rahman.
Dr Mahathir lambasted the actions of some government officials for delaying decisions until they had to be transferred to another department in order to facilitate the administration.
He said there were officials who delayed the appointment of minister's officers who were not paid in the last four months.
"Due to certain reasons, we are unable to meet 100% of our promises. The damage in the government is far worse as some people delayed implementing the decisions that have been made.
"We found that there are officials who are still loyal to the previous administration and Najib. We appointed officers as ministers are entitled to get their staff. Despite my approval of their appointments, they are still not getting their salaries, purportedly something is wrong with the appointment.
"It is only when the Cabinet decided to take action, the salary is paid," he said.
Meanwhile, commenting on the appointment of Education Minister Dr Maszlee Malik as president of the International Islamic University (IIUM) which received criticisms from various quarters, Dr Mahathir said: "The people gave their opinions and we are also sensitive to the reaction. So we have decided to review it."
"It is not carved in stone," he said.
On today's meeting, Dr Mahathir said a number of issues were discussed including the level of people's satisfaction with the government, the roles Pakatan Harapan could play in the Sarawak state election next year or the following year apart from the coalition's internal affairs.