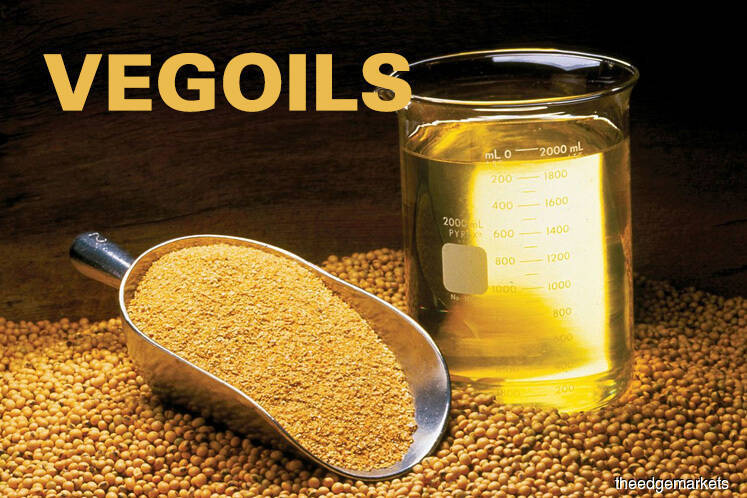 KUALA LUMPUR (Sept 7): Malaysian palm oil futures were set for a third consecutive session of losses on Friday, tracking weaker edible oils and on expectations that production will rise in the coming weeks, traders said. 
The benchmark palm oil contract for November delivery on the Bursa Malaysia Derivatives Exchange was down 0.5% at 2,265 ringgit (US$546.71) a tonne at midday
break. 
It earlier fell to 2,258 ringgit, its lowest levels in nearly a week. Palm, however, is up 0.8% so far this week. 
Trading volumes stood at 9,950 lots of 25 tonnes each at noon.
Malaysian markets will be closed on Monday and Tuesday on account of national holidays. 
"The market is down on production expectations," said a Kuala Lumpur-based trader. 
Another futures trader said the market was also weighed down by weakness in palm olein on China's Dalian Commodity Exchange, adding the long holiday weekend could cap the upside.
Palm oil production is widely expected to rise in the coming months, in line with seasonal trend. A Reuters poll has forecast August output likely rose 9.9% to 1.65 million tonnes, contributing to higher inventory levels, which is seen hitting a six-month top at 2.41 million tonnes.
Official data from the Malaysian Palm Oil Board is scheduled for release on Sept 12. 
Palm oil may break a support at 2,274 ringgit per tonne and fall towards the next support at 2,245 ringgit, said Wang Tao, a Reuters market analyst for commodities and energy technicals.
The Chicago September soybean oil contract was down 0.2%, while the January soybean oil contract on China's Dalian Commodity Exchange declined 0.4%.
In other related oils, the Dalian January palm oil contract was down 0.9%.  
Palm oil prices are impacted by movements of other edible oils, as they compete for a share in the global vegetable oils market.
    
 Palm, soy and crude oil prices at 0459 GMT
| | | | | | | |
| --- | --- | --- | --- | --- | --- | --- |
| Contract | Month | Last | Change | Low | High | Volume |
| MY PALM OIL | SEP8 | 2215 | -9.00 | 2215 | 2218 | 20 |
| MY PALM OIL | OCT8 | 2244 | -11.00 | 2239 | 2244 | 144 |
| MY PALM OIL | NOV8 | 2265 | -12.00 | 2258 | 2267 | 4493 |
| CHINA PALM OLEIN | JAN9 | 4890 | -46.00 | 4886 | 4972 | 327134 |
| CHINA SOYOIL | JAN9 | 5842 | -22.00 | 5832 | 5912 | 349708 |
| CBOT SOY OIL | SEP8 | 28.1 | -0.06 | 28.1 | 28.1 | 145 |
| INDIA PALM OIL | SEP8 | 605.00 | -1.50 | 604.80 | 605.7 | 40 |
| INDIA SOYOIL | SEP8 | 744 | -1.95 | 743.6 | 744.6 | 70 |
| NYMEX CRUDE | OCT8 | 67.78 | +0.01 | 67.70 | 67.97 | 26077 |
 Palm oil prices in Malaysian ringgit per tonne
 CBOT soy oil in U.S. cents per pound
 Dalian soy oil and RBD palm olein in Chinese yuan per tonne
 India soy oil in Indian rupee per 10 kg
 Crude in U.S. dollars per barrel
 
(US$1 = 4.1430 ringgit)
(US$1 = 71.7700 Indian rupees)
(US$1 = 6.8394 Chinese yuan)