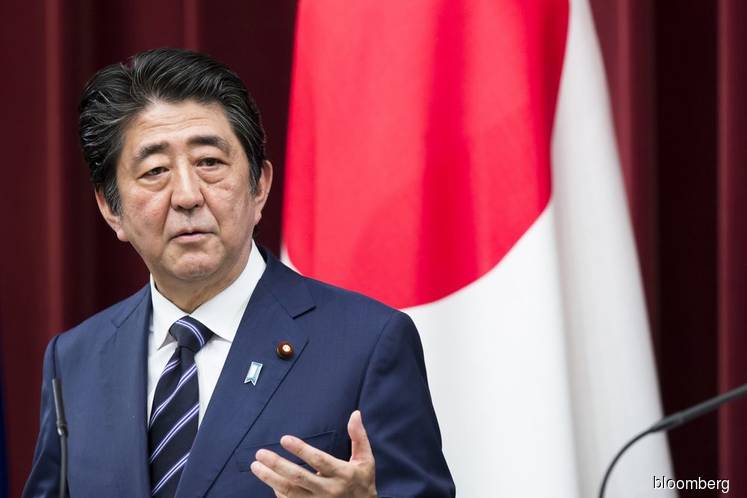 (Sept 7): After two terms of mixed reform results, Prime Minister Shinzo Abe is vowing to tackle some of Japan's most intractable problems in the third.
Abe is heavily favored to win a Sept 20 vote to lead the ruling Liberal Democratic Party for another three years, with one local newspaper poll showing 87% of eligible lawmakers favoring his return. The prime minister and his only rival, former Defense Minister Shigeru Ishiba, registered their candidacies Friday in Tokyo, marking the official start of the campaign.
In recent weeks, Abe, 63, has signaled plans to follow his "Abenomics" policies of monetary easing, fiscal stimulus and structural reform, with a more controversial agenda focused on demographic issues. But the prime minister's record of watering down proposals, after resistance from the public and vested interests has left many skeptical about his resolve to see it through.
"It's been characteristic of the Abe government for the last three or four years that they say all the right things," said Robert Feldman, a senior adviser at Morgan Stanley Mufg Securities in Tokyo. "Somehow the budget and the actual laws they pass don't get them toward the things they say they want to do."
Here's a look at Abe's agenda:
Foreign Workers
Spooked by a labour shortage crippling sectors such as elderly care, Abe's pushing to crack open Japan's restrictive immigration laws. He's pledged to create a new residential status for lower-skilled foreign workers next year that would accept laborers for limited stays without their families. The existing foreign "intern" system has been dogged by allegations of forced labor. In an essay published by Hanada magazine last month, Abe said foreign workers must be paid the same as their Japanese counterparts and be protected from exploitation. Still, he argues it's not "immigration" because they can't stay.
Retirement Age
Jobs for life could become more common in Japan, if Abe gets his way. In an interview with the Nikkei newspaper this week, the prime minister said he wanted to focus the next year on creating an environment for people to stay working throughout their lives. That could mean bolstering opportunities for mid-career job changes and encouraging people to stay on past 65. Japan already has a relatively high proportion of elderly workers, including about 30% male and 16% of female senior citizens.
Social Security
Abe's counting on keeping more elderly people in the labor force in year one of his next term. Because it's essential to healthcare and social security overhauls he's planning in years two and three. Abe told the Nikkei that he was considering allowing workers the option of delaying pension payouts past the age of 70, in exchange for higher monthly payments when they do. The Japanese already have among the world's longest life expectancies — at about 87 years for women and 81 years for men — and Abe said he wants to promote lifestyle incentives to lengthen healthy life spans.
Sales Tax
Abe is also seeking to raise the consumption tax to 10%, from the current 8% in October of next year. The last increase to 8% in 2014 triggered a recession, leading Abe to twice delay a second hike. Abe told the Nikkei that measures like exempting food from the next increase would help deflect another economic hit.
Constitutional Amendment
Abe pledged in a policy pamphlet distributed to party lawmakers ahead of the election to push ahead with a controversial plan to change the pacifist provision of the country's postwar constitution. He said he would seek to present the LDP's amendment to the next session of parliament and push for an early vote. The plan faces a rocky road: Natsuo Yamaguchi of Abe's coalition partner, the Komeito Party, said last month he didn't think there had been much progress on consensus-building to support the plan.