This article first appeared in The Edge Financial Daily, on September 6, 2018.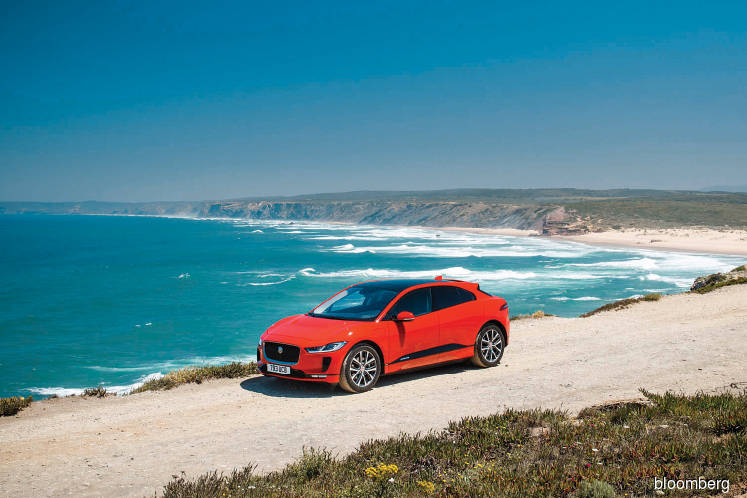 TO know Ian Callum is to understand why he was the right person to create the Jaguar I-Pace, and to understand why it is a success. The Jaguar design director is a famously convivial Scot, a man of far-ranging interests. He reads C S Lewis, restores old Porsche 914s, and consumes an omnivorous diet of music, to which he listens while he designs.
He is also the darling of automotive critics everywhere. Maybe it is his disarmingly humble Scottish brogue that announces him simultaneously as one of the boys and the leader of the pack. Maybe they love him because he gave the world the Aston Martin DB7 and DB9, the Vanquish, the Jaguar F-Type and the Nissan R390, a rear-wheel-drive Le Mans racing car. Each of these embodies Callum's ability to push car design forward at historic brands.
His latest is a US$69,500 (RM288,425) electric sport utility vehicle (SUV). It is the company's first purely electric vehicle: a low-riding, compact SUV that you might compare against everything from the Porsche Panamera E-Hybrid, Audi Q5, BMW X3 and Mercedes-Benz GLC. I am not going to call it a Tesla-killer — the Model S and Model X remain automotive all-stars. But the I-Pace is the first vehicle that holds its own against them in terms of range, performance, technology and design.
It is also the logical next step for Callum's evolution as a designer. As the company attempts to regain its heyday after a severe depression in design and performance and never making a profit under Ford Motor's reign in the 1990s and early 2000s, it is the right vehicle for Jaguar to launch now.
"Jaguar has always been about innovation," Callum told me, explaining why it is natural, though unexpected, for an 84-year-old British racing brand to turn around and produce an all-electric vehicle, and an SUV at that. "We have to embrace the new; we have to find ways to push things forward."
After driving the I-Pace around for an afternoon in Los Angeles, I am happy to report that it looks distinctively like a Jaguar, with a low-slung roofline, wide stance, and gently curved hood — no small feat for a futuristic 4,784-pound (2,170kg) rig that must find space to store a large 90-kilowatt-hour (kWh) battery under its floor.
In my test, it performed as well as any electric vehicle you will find on the market today. Jaguar has given the I-Pace two motors that send 394 horsepower and 512 pound-feet of torque to all four wheels. It can hit 60mph (97kph) in 4.5 seconds, which puts it on par with much more expensive vehicles like the Porsche Macan E-Hybrid and entry levels of the Model X. Top speed is 124mph.
The gearless, instant torque turns highway exits and on-ramps into a thrilling experience. With its quietly whirring motor, it creeps up on BMWs and Audis jogging through traffic and easily dusts them. But the regenerative brakes take some getting used to: The strongest of the two modes of regenerative brakes slows the car the moment you lift your foot off the accelerator, which is a weird sensation when you are used to driving cars that simply coast when you let off the gas.
Otherwise, the I-Pace feels glued to the road, riding so low there is no apparent body roll, and as good a handling around corners and switching lanes as you will find in the Model X. It is no sports car, but it is responsive enough.
The I-Pace has a range of roughly 240 miles. This is not far enough to drive on a road trip of any quality, unfortunately; it will do for daily work commutes, not driving from Los Angeles to Big Sur. But it at least matches the general going rate set by the Tesla Model X (or what Callum refers to as Elon's "breadbox").
On the other hand, often what is more useful is the charging duration of an electric vehicle, rather than its total range. On a day trip with the Model X, I spent hours unwillingly waiting inside a Denny's while the vehicle charged. Never again, I grumbled to myself for days afterward. Charging on the I-Pace takes 40 minutes to get from zero to 80% full on a 100kW fast charger, or 85 minutes at a more common 50kW charger.
The exterior styling is the most exciting thing about the I-Pace. I mean this as a good thing. In the mid-size luxury SUV segment where every new model looks bland at best and forgettable at worst, Callum has managed to do what he says is more difficult than creating something original — he created something rather beautiful.
The rest of this relatively compact, 184-inch-long (467cm) SUV flows without a seam into the two ends, topped by a large panoramic sunroof and flanked by 22-inch wheels (18- and 20-inch come standard, though I predict few buyers will end up with them). Inside, there is significantly constricted visibility out the rear windows, but the cabin is otherwise spacious and sunlit.
The two clever central command screens combine touch technology with comforting tactile controls (sometimes buttons and knobs are the best tools for the job) that monitor climate, navigation, audio, driving characteristics and dual-mode regenerative brakes. You can do things like adjust cabin air ionization and preheat or precool the interior of the I-Pace using the touchscreen or, remotely, the smartphone app.
It all feels as refined, quiet, and sensibly dutiful inside as it feels to drive. Deliveries start later this year. — Bloomberg