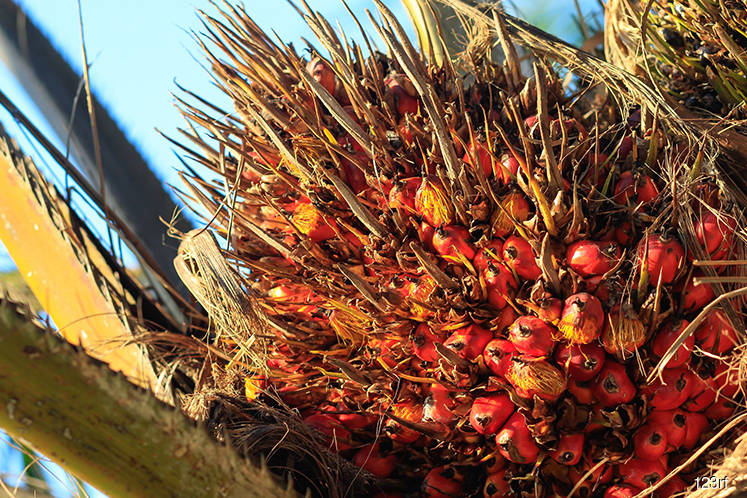 KUALA LUMPUR (Sept 5): Palm oil inventories in Malaysia, the world's second largest producer, are forecast to rise at the end of August for a third month to the highest since February, as output growth outpaced exports, according to a Reuters survey.
Rising stockpiles could dampen benchmark palm oil prices, which rose in August by 2.5% from July. Palm oil prices were last down 0.4% at RM2,289 (US$552.23) a tonne on Wednesday afternoon.
August end-stocks are forecast to rise to 2.41 million tonnes, according to the median estimate of ten planters, traders and analysts surveyed by Reuters. That would be a 9% increase from the previous month and its biggest monthly gains since November 2017.
Production also jumped by 9.9% from July to 1.65 million tonnes, its highest levels so far this year but its lowest level for August since 2010.
"A seasonal uptick in yields boosts fresh fruit bunch output in August," said Ivy Ng, regional head of plantations research at CIMB Investment Bank.
"Estates in Sarawak posted the higher month-on-month production increases, followed by those in Peninsular Malaysia. Sabah estates posted the smallest month-on-month rises in production."
Malaysia's 2018 full year output however could decline from last year's 19.92 million tonnes, said industry analysts, as production normalizes after a post-El Nino bumper crop.
A lack of labour and an old tree profile in Malaysia also contributes to slower output this year, said Oscar Tjakra, a senior analyst at RaboResearch.
"Due to lower crude palm oil prices, some companies may also be applying less fertilizer," he added.
The survey pegged Malaysian exports for August at 1.23 million tonnes, a 2.3% increase from last month and the highest in three months.
"Exports see some improvement, but the growth is not significant," forecast a Malaysian planter.
Palm oil demand in recent weeks has been sluggish as sliding emerging market currencies have reduced the purchasing power for palm importers. Higher import duties in key importer India also added to demand weakness.
Traders, however, are largely expecting Malaysian demand to pick up in September due to a 0% export tax rate for crude palm oil.
Official palm oil data will be published by the Malaysian Palm Oil Board after 0430 GMT on Sept 12.
The median figures from the Reuters survey puts Malaysia's consumption in August at 270,311 tonnes.
Breakdown of August estimates (in tonnes):
| | | |
| --- | --- | --- |
| | Range | Median |
| Production | 1,578,381 - 1,800,000 | 1,651,771 |
| Exports | 1,180,000 - 1,700,000 | 1,232,965 |
| Imports | 13,000 - 80,000 | 50,000 |
| Closing Stocks | 2,200,000 - 2,464,226 | 2,413,060 |
* Official stocks of 2,214,565 tonnes in July plus the above estimated output and imports give a total August supply of 3,916,336 tonnes. Based on the median of exports and closing stocks estimate, Malaysia's domestic consumption in August is estimated to be 270,311 tonnes.
(US$1 = RM4.1450)